Designing a Garden for Bees & Birds
Client Wish List
Doreen and Sam wanted a no-grass pollinator paradise in their backyard. They are successful vegetable and fruit gardeners and wanted to maintain that function in the new garden without sacrificing beauty. The side yard is flat and had been used by the previous owners for dining, but Doreen and Sam really wanted a dining area in the backyard. While they knew this complete transformation would require new materials, they also wanted to re-use any materials we could and, of course, watch the budget whenever possible.
Designer's Perspective
In order to create a flat dining area in the backyard, we needed to carve into the existing land and some soil needed to be removed. For a bit of fun, and to take advantage of a FANTASTIC existing boulder (more on that later), I put the new patio on an angle. Sam likes straight edges and Doreen likes curves, so we pulled off a bit of both by having two areas – an angular dining spot and a curved and casual sit spot. Check out the design to see how the two spaces interacted from an aerial (birds-eye) view:
The Boulders
There were at least 9 large boulders on site, haphazardly placed probably when the home was built. One was too large to reasonably move, so I designed around it! This boulder became the focal point and transition piece between the side yard, new patio, and path to the veggie garden. Overall, 4 large boulders were kept in place and 5 were repositioned.
The Plants
Here is the entire list of plants for this project.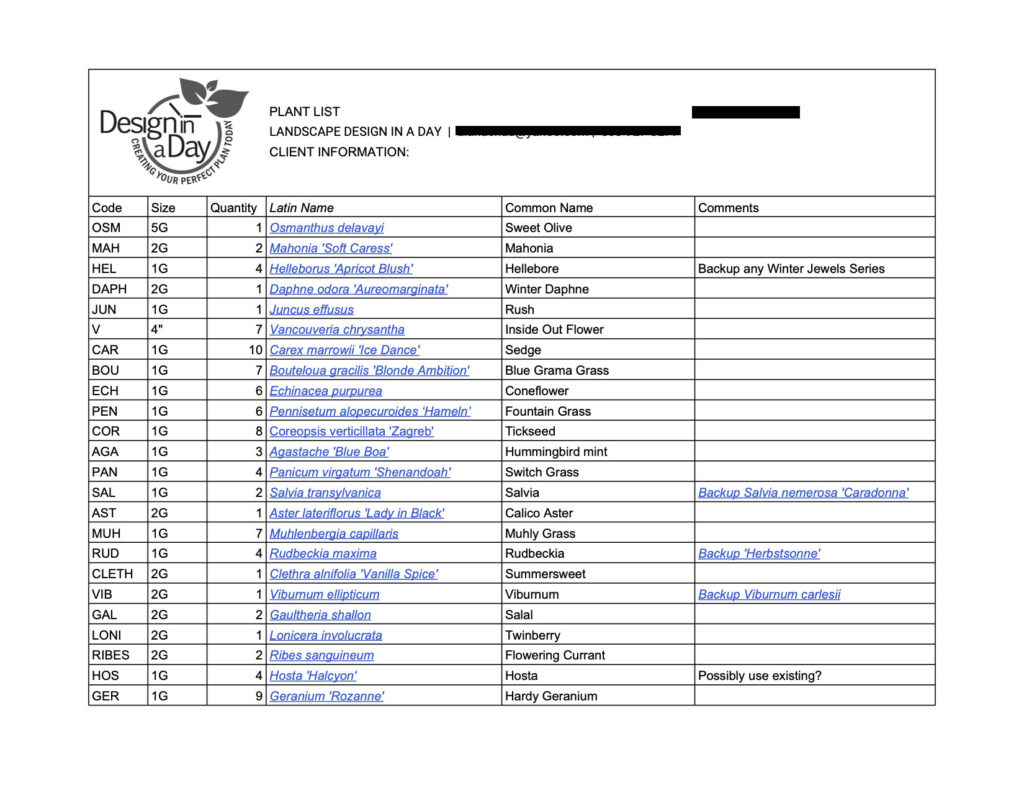 We were going for a bit of the meadow look in the main, sunny part of the garden. This includes many ornamental grasses and pollinator plants.  Echinacea, Agastache and Salvia, oh my!
There is also a dry shade part of the garden, created by a very large maple. For this situation, we added hostas, ferns and geraniums.
We arranged for all the plants to arrive right before the client organized a "work party". I helped place the plants and a handful of gracious friends helped the clients put everything in the ground. Many hands make light work!
The Cloud Wall
I would be remiss not to mention this fun and whimsical addition by the client. The light blue wall in the back was a drab concrete, and visible from their living room sliding doors. They painted clouds! I smile when I see it and I'm sure they do too. And a special thank you to our clients who supplied several photos for this blog.
"Last night, Sam and I sat at our picnic table after dinner, enjoying the evening and watching a hummingbird feed on the flowers in our garden.
Our scruffy backyard has been transformed, and we could not have done it without Alana's help.  While we thought we had a pretty good idea of what we wanted, she saw potential that we did not. The design process was efficient, collaborative and enjoyable. The resulting landscape provides a variety of spaces, plantings and views that we plan to enjoy for many years." – Doreen, Homeowner
Let's transform your backyard with a collaborative design process that explores the potential of your existing landscape and home.   Contact us and let's create together.