Making The Best Use of Small Portland Backyard for Outdoor Living
My client Stacy needed privacy and a complete re design of the back yard of her 1940's home.  She has an especially tricky corner lot.  They often have a much smaller back yard especially when the house faces one street and the driveway and garage are around the corner.
Where will the new office go?
There are some difficult and very important ways I needed to help Stacy make this new home work for her.  It wasn't just having a nice back yard that was at stake.  She needed to add a 12' x 10' office to her back yard for her new job as the house was not big enough to accommodate working from home.
Not Enough Outdoor Living Space
Her past outdoor lifestyle had lots of outdoor entertaining with 10 to 15 friends over. It would be pretty sad to tell half the friends they were not invited to her next July party.  Her dream back yard needed to have a dining table for 6 and a large sectional sofa.
Protect the large Shade Tree from construction
The back yard had significant privacy issues on two sides, a magnificent (over the top amazing) 25' tall mature Japanese maple and the strangest drainage system for her garage roof I have ever seen in my life.
She needed a designer to create multiple landscape layouts to find a design that would make the best use of her space and give her as much of her hearts desires as possible.  The word possible is important.  And there were many many different or slightly different layout designs created to find the best one for this tough city back yard.
Beloved Wood Table
I had created several drawings prior to our first on site appointment so I already suspected the bad news but ever the optimist I worked on site with Stacy for 2 hours before making the first cut in her wish list.
The challenge I hit right away was how to keep Stacy's large beloved wood table she and friends had built.  It was a beautiful piece of handcrafted furniture and the table she had special dinners with friends for many years. It was very important to her.
We worked together at her kitchen table which is a typical way I like to work with my clients. Stacy will tell you the first thing she learned was that she didn't have enough room to keep her beloved outdoor table that she and friends had built.  It was simply too big.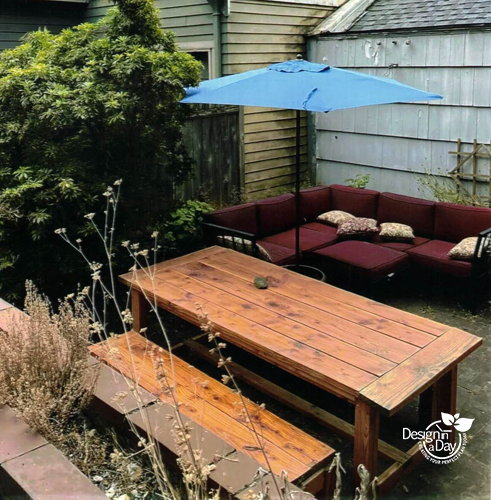 Seeing me work and re work the concept drawings right before her eyes helped her let go and open up to the next steps and that was a good thing.  In short letting go of her lovely table was important because it could not be done without giving up either the office or the sectional sofa lounging area. As Sherlock would say, "When you have eliminated all which is impossible then whatever remains, however improbable must be the truth."  Sherlock Holmes aka Sir Arthur Conan Doyle
Typically I do not design an entire back yard around a piece of furniture- it doesn't serve my clients best interests but this loved table was well worth the time we took. Our design works well with a typical sized table but not an oversized one.
Locating the New Office
The next big challenge would be placing the new office.  Stacy had picked a spot for the office and in the end we placed the office in that corner of the back yard.  We had the size and shape of the new office but we also needed the location of  all doors and windows before we can start.  Another big issue to carefully consider was how the studio foundation would affect the health of the magnificent huge shade providing Japanese maple.
My next blog will share how we worked with placing the office.
Client Testimonial
"Carol did a fantastic job designing our very difficult back yard space and worked in just about all our asks.  She was easy to work with, and I greatly enjoyed the format and how she got to know my preferences for this or that.  I'll be asking her to do a plan for my front yard once the back is done!"
Tricky corner lot?  Not enough room for all your outdoor living needs and wants?  Contact us.  We love the challenge and the satisfaction that comes with finding solutions for outdoor living in small or tricky city backyards.  With my experienced designers eye we will find possibilities even with what seems like impossible scenarios.   I'll tell you what you can have and also what doesn't work after carefully applying my years of experience and creativity to your situation.