Drought tolerant garden design in North Portland
My client Laurie had lived in her 1950's ranch style home for over a decade and was only the 2nd owner. She removed all the lawn and added exuberant plantings that hid much of the house from the neighborhood. She loved lavender and (so do bumble bees) so much so her mail carrier would not use the front walk because of the generous number of happy bees. She loved her garden but over time the now overgrown plantings were not working for her anymore.   It was time for professional solutions and a complete change.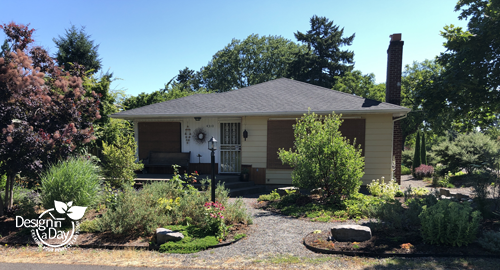 She wanted a designer who would listen to her ideas and be easy to collaborate with. She found Landscape Design in a Day and from the first phone call we were having fun.  We had to make ourselves stop "design riffing"  to do the paperwork and set up our appointment.
Incorporate the ADU into Landscape Design
Integrate her landscape design around the ADU so it looks like one landscape for her home and the ADU (Accessory Dwelling Unit).
A welcoming and comfortable walk to the front door and a separate entry walkway for ADU/studio building on the property.
Create an attractive and more professional drainage solution.  The 60' long black pipe handling downspout water was fully visible on the surface of the front yard had to go.
No lawn.
Edit her existing plants and keep the best plants that fit into the new vision.
Select colorful interesting plantings to satisfy her gardeners heart that use little water. Use enough evergreen plants for winter cheer without sacrificing the lushness of spring and summer flowers and foliage colors.
Drip irrigation system so she could be frugal with water and have healthy plants.
Pollinator plants.
Include some plants typical to New Mexico where she grew up.  Must have prickly pear please.
Client wanted parking on the south side yard and easy paths to the house.
Incorporate boulders where possible
Designers Assessment and Solutions
I saw several issues in addition to my clients list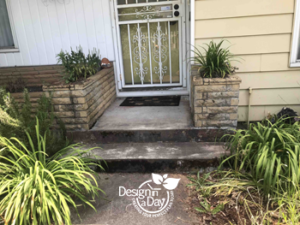 The Front Door Entry Was Disappointing
I created a new front porch to give a boost to the overall appearance of the house and as a sit spot.  Initially most clients don't consider what a difference changing the entry will make to the overall landscape.
She had the typical midcentury built in brick planters by the front door that kill every plant ever planted in them.  The planters, in addition to basically being a plant cemetery, took up too much room around the front door, making the entry feel cramped. To create a welcoming entry I knew the planters and aged cracked concrete porch must go.  We brought in Victor Vincill to design a wall treatment to replace the brick planter.  There was no siding under the brick. Victor used a vertical panel of warm cedar to add drama and to side the area where the brick planters had been.
With the new updated entry I wanted to open the house up to the neighborhood without losing too much privacy. We removed some beautiful but overgrown plants including smoke trees. We were not able to keep the hot pink flowering cistus as they do not transplant well but we added several into the new design.  Laurie loves them as do I.
There were several trees on the property I wanted to incorporate into the design:  a Japanese maple planted in honor of Laurie's dad, a dogwood and a maple tree planted by her brother and a smoke tree. The rest of the plants needed to go, which can be a hard thing, but seeing how the proposed landscape would look Laurie was enthusiastic about clearing much of  the slate.
South Side Garden becomes SW Style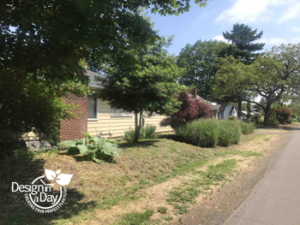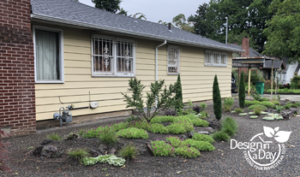 Laurie wanted a fully drought tolerant garden on the south side that could defend itself against neighborhood foot traffic and dogs. Since this was the south side it was a perfect place to explore the more Arid and New Mexico style plantings. It was well over 100' long and narrow.
I knew a bermed planting bed shape would create proportional mass for this corner lot garden. It is an especially long lot line.
I wanted to make a view for the south office window even though it had heavily curtained windows.  I felt Laurie would enjoy opening the curtains for morning light and seeing shrubs with butterflies and birds visiting it. I selected a fast growing large variety of California Lilac for her view which fit nicely with her New Mexico planting theme.
The Ugly Black Drainage Pipe Goes By Bye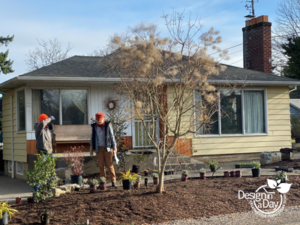 Designer contractor collaboration (Donna Burdick, LCC) worked with me to discover the best drainage system.  We used a rain garden as a focal point for the front yard. It solves the drainage problem (bye bye black pipe!) and is an asset to the overall design and property.
Hardscape Landscaping in North Portland
Dyed Concrete with a sand finish for the new angled steps and porch
Vertical cedar siding solution for house façade replaces brick planters and adds interest
Compacted crushed rock paths with steel edge has dry set large flagstones to carry the eye through the garden
We used my special cedar chip for the woodsy garden path and sitting area for the ADU
Design Review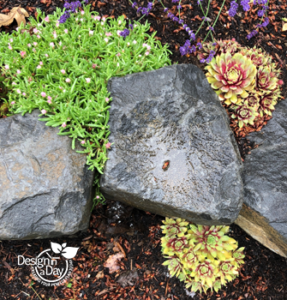 "I want to thank you again for your incredible design sense and plant recommendations.  We are so happy with our south and front yard – we walk around it every evening, we sit on the new front porch and find so much solace and peace in it.  Our neighbors also love it and frequently comment.  The world needs more beauty and joy right now!! And how about my beautiful prickly pear (Nopales).  It's grown exponentially from two pads to many!!!"
Laurie
2021 Update!
If you love the drought tolerant and SW inspired landscaping, contact us for an appointment.