Wildlife Friendly Front Yard Landscape Design
The front of Erin's home is a very wonderful spot to sit. It has a high roof and deep overhangs- perfect for an outdoor loveseat. What the front yard did not have was any reason to sit out there at all.  In fact, when Erin bought this home, the large front yard was completely overgrown with weedy grasses. Erin knew she wanted an abundance of plants for beauty as well as wildlife. She wanted her plants to be useful as food for wildlife and for herself.  And she wanted something a bit fun and very different from a traditional curb appeal treatment.
Creating a Welcoming Front Walk
Some houses can get by without a walkway from the street, but we knew right away that this wasn't one of them. This front yard is large and flat and would be filled with an abundance of interesting plants. Creating an inviting walkway through the garden to the front door was on the top of our list.  Design is always first about how we walk.
I mentioned that great spot under the front eve. Before the design, that was actually the walkway to the front door, so it could not comfortably have furniture. We created a new path from the driveway, so that the couch could fit undercover with a comfortable path directly to the front door. Win-win!
Special Raised Bed for Herbs-Herb Spiral
The house is facing south which means the full sun is in the front.  Most vegetables and herbs need full sun so we knew the front garden design would include the edibles. Erin grows medicinal herbs, but a traditional rectangular raised bed didn't feel right in the middle of this fun, curvy design.  So I suggested an herb spiral, a circular raised bed with many different microclimates for different herbs to thrive. Check out this article to see why it is both fun and practical.
Front Yard Fencing Improves Proportion
As Portlanders are using their front yards more and more, front yard fences have become very popular. They create interest and definition, while also creating a separation from the public street. Check out a couple examples from previous blogs: Modern Landscape Design for Kenton Neighborhood Front Yard and St. Johns Front Yard with Rain Garden.
The decorative fence for this yard is made from cedar wood and rigid metal grids. It is often called Cattle Panel Fencing or Hog Wire Fencing. I find it to be very attractive but most important it keeps the family dog safe and confined while Erin snips herbs to bring inside.  A fence also keeps other people's pets out of her edibles garden.  Also, because the front yard was quite deep, the fence placement, how it is stepping forward and back instead of a straight line keeps the entry to the home the most powerful feature.
The Power of a Privacy Fence
Which bring me to the power of a privacy fence. This before and after picture is worth a thousand words, as they say: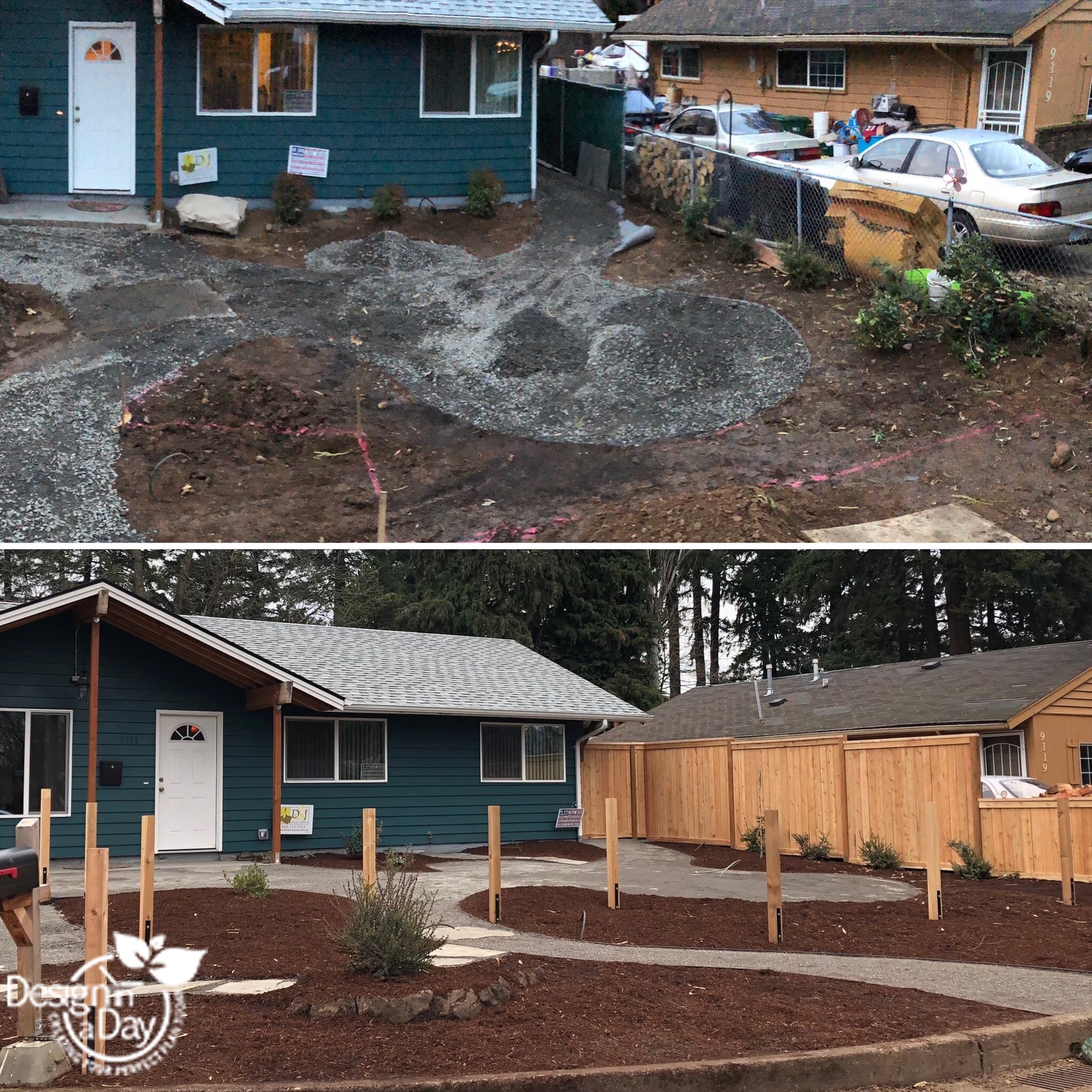 The neighbor fixes old cars, which was highly visible from Erin's front yard. A picture-frame style privacy fence in just the right spot creates an instant screen. Over time the fence will be softened with the plantings, but sometimes a nice clean fence solution feels great.
Professional Landscape Installation
D&J Landscape Contractors installed both the front and back yards of this home. Mossy Rock boulders were used to berm up different areas for interest as well as good drainage. Compacted crushed rock is the main path material with bluestone accents for highly used or highly visible areas.
Pollinator Plants for the Front Yard
In the front yard, we wanted to focus on great plants for pollinators, fun color, and year-round interest.   For our client feeding bumblebees and providing for wild life is very important. To create the naturalistic wild style that our homeowners love, a 5′ wide eco lawn creates the transition between garden and the street instead of bark dust.  The elegant curve of the path helps tame the wildness of the eco lawn plants and sets off the plantings beautifully.  Here are a few examples: Ceanothus 'Julia Phelps', Clethra alnifolia 'Hummingbird' and Baptisia 'Purple Smoke'.   Our native small tree a Black Hawthorne, Crataegus douglasii does double duty as it is an important medicinal and food for native birds.
Does your garden need a fun and functional makeover? Contact us today to learn about our collaborative design process.