Portland Backyard Landscape Design Renovation
Making a backyard heaven the DIY way started with Peter and Lynn contacting me for a landscape design in the Foster Powell neighborhood. While they are solid DIYers, they also believe in getting professional help where it is needed. They wanted a designer who prefers collaboration with clients.  Landscape Design in a Day creates the heart of the design with the clients at their home. This idea was appealing to them and so we found ourselves working together at the kitchen table.
Client desires
This home, built in 1917, had existing plantings and my clients had furnishings they wanted to work into the design.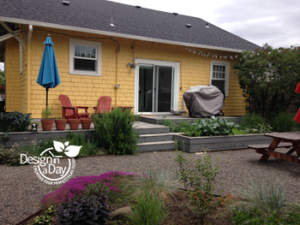 We kept:
The back property line laurel hedge
The revered and large western red cedar
The old lilac trees for privacy in the summer
Their small apple tree
2 red Adirondack chairs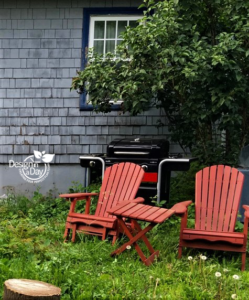 A picnic table
Free standing stumps to use for fire pit seating
We removed
All of the rough lawn, trees of heaven and other invasive weeds.
They wanted
Design usable areas with good flow and good integration
A deck/back porch seating area, dining area for their
an improved fire pit area
Low water plants, raised beds for edibles
Designers take
I wanted easy inviting access into the backyard.  I designed a porch that serves 4 purposes: a threshold level for BBQ with a step down to seating (where we used the red Adirondacks) and built in their raised beds.  I love that our BBQ area is large enough to comfortably pass the person doing the BBQing and to access the backyard.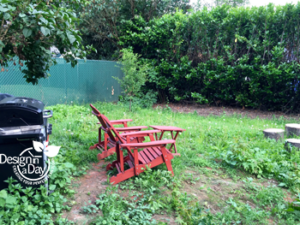 At ground level I created 2 more outdoor rooms: a dining area big enough for the extra-large picnic table and a fire pit.
Honor the old native cedar tree
I placed drought tolerant plants near the old cedar tree as that would be the best compatible planting companions for the tree.
My first peek at the finished landscape design
The first time I saw the installation of the design was winter.  I was so happy to see how the planters around the deck, which make the deck seem more like a porch to me and eliminate the need for railing…………were full of tall overwintering kale still being harvested in early February. Even in winter I could see what an excellent installation they had done. Peter's only regret with his DIY work was that he did not get the exact crushed rock he requested from the local rock yard.  The delivered product would not compact.
I loved how before the design, with the landscape more than a bit rough, Peter and Lynn would still sit out in the backyard even though they had no stairs from the house yet.  We are all different but when you love being outdoors, having a fabulous backyard is very important.  This garden calls them to come be outdoors.  Time spent in this gardenly backyard and memories made are relished.
Peter says , "We're very happy with the design and how everything came together."  Please see the front yard design we created together a few years after the back yard was installed.  Sloped front yard landscape design for foster powell neighborhood home.
If you like to do it yourself but need a plan, contact me to make an appointment and start the landscape design process!