Sustainable Native Garden Design
Front Yard Meadow Garden
Dawson approached us at wanting a garden that is as good for the land as it is for him. He was on the cusp of retirement and had never tended a garden before, so part of our project plan included follow-up visits to teach plants, pests and maintenance. I just enjoyed one such visit at this truly sustainable garden.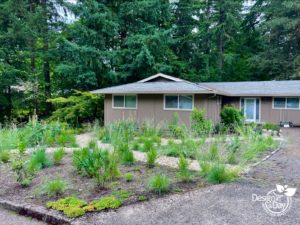 Spring in a Pollinator Paradise
An ecological garden is full of pollinators and little critters. It has only been 6 months since the garden was installed by Autumn Leaf Landscaping and even I am astounded by the ecosystem that has already developed in the garden. Today, the California Lilac, Ceanothus 'Victoria', and Lewisia cotyledon are delighting the bees. Last month it was Lupine and Western Azalea. Next month it will be Echinacea and Milkweed. In fact, this garden has pollinator plants for every month of the year. I wouldn't design it any other way.
Maintenance in a Native Plant Garden
Maintenance is different in a garden with wild native plants. The Bigleaf Lupine, Lupinus polyphyllus, is past it's bloom when we visit in June. Last month the butterflies and hummingbirds enjoyed this robust plant. Now the blue racemes have faded to beige seedpods. A traditional landscaper would have cut the plant back to make a tidy mound. But here in this ecological garden, we want the seeds. Not only do they have a beauty all their own, we actually want to encourage a bit of seeding in this wildlife garden. The more the merrier. The entire planting plan allows for light self-seeding.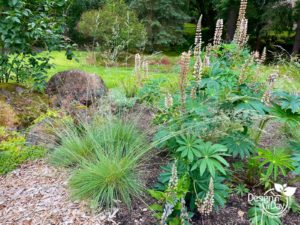 When you let native plants go to seed, you actually create plant diversity within your garden. This native iris, Iris douglasiana, is seedling-grown and therefore blooms in a variety of colors.
Not only that, but seedling-grown plants have great resilience. In a winter-wet, summer-dry garden like we have in Portland, only the seedlings that can handle these specific conditions (sun, soil, water) will survive. Over time the plants in this garden will be better adapted to this site than a plant from a nursery.
Pest Control in a Natural Garden
Many of the questions from a new gardener revolve around pest control. In an ecological garden, we avoid pesticides at all cost. Instead, we employ what is called Integrated Pest Management.  The most important difference between this method and traditional pest control is that the first step is to observe the "pest".  What is it? Is it causing harm? Take this California Coffeeberry, Fragula californica 'Eve Case'. Dawson asked how to get rid of the aphids.
Aphids can be a real problem, no doubt. If your situation has gotten out of control, check out this great article. In this garden, as we are standing there observing the number of aphids and noticing that the plant is otherwise healthy, we see a ladybug – the natural aphid enemy. Too good to be true? Not at all, it's more common than you think in a diverse landscape. The most difficult part about gardening naturally is gaining the knowledge about when to intervene and when to let nature find her own equilibrium. Today, we don't need to intervene.
There was also some root weevil damage, but we've already covered that one on this blog post.
Natural Materials
In a truly eco garden, the materials used should be natural as well. Here we use cedar chips for paths, wood risers for steps, and natural stone.
Of course, I love creating a garden that is good to the land. But for me, the reason this garden is a home run is because the homeowner is absolutely loving it. The year-round blooms. The hummingbirds and ladybugs.
Are you interested in a sustainable garden that is good for the land and good for the soul? Contact us and get the process started!