Can She Do it? Design 2 tiny concrete jungle gardens into unique graceful entries
The Design Challenge     Jeff and Carrie Putsch hired me to create a Landscape Design in a Day for their small backyard. They loved the design and installed it themselves over three years.  Jeff did all the stone work for the patio himself.  Last spring they contacted me to design their tiny front yard in tandem with their next door neighbor.  The front yards were less than 400 square feet and set in a very urban environment.  They wanted their landscapes to flow together.  I thought this was a great idea!
Design Requirements   The clients  wanted plants with low maintenance water needs that could thrive in hot south sun.  They also wanted plants with year-round color/curb appeal.  Evidently, there were many problems to solve.  For Jeff and Carrie the biggest problem was the builder had planted two Aspen trees. Five 10″+ wide trunks erupted from the small Aspen trees.  The roots filled every square inch of the soil = wrong plant in the wrong place!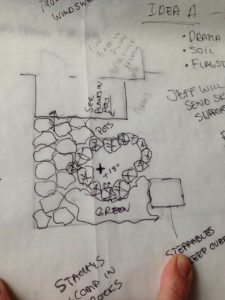 Their neighbor wanted simplicity and color. Happily they had no Aspens, but their soil was also filled with roots of this tenacious tree.
Because the soil was tight hard clay fill, I knew my design solution would include bringing in new soil. Attractive boulders would retain the soil and add a naturalistic style.
The Process  I met with my clients, collected their thoughts and desires and sketched two design options.  Important considerations included:
Tiny Driveways  The driveways were so tiny that there was no place to walk except in the soil side strips.  I used large flagstone so they could step out of their car onto the flagstone.  I repeated the same flagstone for the front walk.
Cars were constantly running over plants at the end of the drive, so we added a strong turf stone and planted it with Stepables.  This softened the look of the turf stone which is rather industrial.  I also selected plants that would grow to hide a large 4×6 metal plate.
Boulders and Soil  Raised rock wall planting beds were designed for each property. Each bed had its own individual shape so they fit together, but had their own style.
While removing the Aspen roots and grading, the contractors discovered there was more concrete and rubble than fill dirt!  It would have been impossible to grow anything without the raised and retained new soil.
Trees:  The Focal Point
The focal point trees shape and mature sizes were selected with care so they won't grow into one another as they age.  The new trees, a Crape Myrtle and an improved Bloodgood Japanese Maple, provided each landscape with individuality.
Teamwork   Since it was such a tricky site, I needed an experienced and creative contractor for the final landscape installation. I met with Donna Burdick of D&J Landscape Contractors and walked through the design and site.  I knew my clients were in good hands.
The Results   Designing both front yards at the same time allowed me to create a landscape that appears larger and cohesive.  Since I always work collaboratively, the clients helped me make each garden unique.  They loved my design and I got kudos for referring Donna Burdick, since her installation made these gardens come together perfectly.