Landscaping Outdoor Living in Portland's Urban NE Neighborhoods
Backyard Outdoor Living in Portland's Urban NE Neighborhoods often requires a covered area.  While backyard outdoor living conjures up visions of  intimate gatherings with close friends and family sometimes only a covered area will offer any privacy from a 3 story apartment building next door.  A small urban home may not have enough entertaining space indoors and some clients use a covered outdoor space for an extra office or a place for messy arts and crafts projects.  Finding ways to create overhead cover is an important tool for my designs since I often work  in urban neighborhoods.
Rain proof outdoor living's best benefit in my opinion is leaving the cushions in place for easy use 9 months of the year.  When the rain is pelting us from the south in the winter few people will enjoy being outside and the rain will come in under the cover typically and soak the cushions anyway.  But a gentle rain in the late spring or early fall can easily be thwarted.  If I can use my furniture without having to go fetch the cushions, or peel off a plastic cover….. if it is just waiting for me to use…guess what ?  I use the sitting area so much more.
Here are 5 Portland backyard landscape designs that use overhead cover for outdoor living.
Rose City Park Backyard
My client Anna wanted a cool shady sitting area to read in her landscape.  We called it the book nook.  Her cover has a traditional tile roof with enough angle to keep dry in a light rain but the most important aspect of the cover for Anna is to protect her from walnuts dropping from her neighbors gorgeous huge walnut tree.  She loves the tree for it's shade, and  for attracting wildlife.  Her covered outdoor area is designed for 2 people and is mostly for Anna's use.
Design tip: A translucent cover would have gotten stained and looked filthy in one season because of the debris from the walnut tree.  Translucent covers under some trees are doable here in Portland but one needs to go into it knowing there will be regular maintenance needed to keep the cover attractive and not a visual detriment, (and not under a walnut tree).
Creston Neighborhood Family Covered Dining Deck
My clients in the Creston neighborhood wanted the option of sun or shade plus rain protection so their furniture would stay dry. Their pergola by Cardinal Aluminum is steel posts and supports but the motorized louvers in the pergola are aluminum.  The louvers give them the choice of sun or shade.  I have several clients who have gone with Cardinal and been quite happy with the results. Given the cost of wood this no wood option is now seen as more affordable than in the past.
Richmond Backyard Year Round Outdoor Living
These clients  in Richmond neighborhood wanted it all.  After working with Landscape Design in a Day they have a heated covered patio with a translucent cover.  They wanted a comfy sofa under the cover and have a table up on the deck near the house.  Our client Emma says this.  "The summary is that we all LOVE the new space and have basically been living out there every time the weather is even a bit decent. We've been using the whole backyard too — before the redo the back part of the yard was kind of dead zone (except for the veggie beds) but now we find ourselves out there almost every afternoon, not just puttering in the veggies but sitting out on the little patio or kicking a ball around with our toddler."
They have overhead heat (electric) for primary use and in the colder months they also use their tower heater which can be moved about.  They can leave their furniture outside year round.  The cover structure is steel posts with a wood structure for the translucent overhead cover.  This photo was taken in late spring so they still have their second heater out in the patio.    Most of the heat is electric so it has less of a carbon footprint than a natural gas firepit or propane or wood burning.  Design by Alana Chau, Landscape Design in a Day
Design Tip: Angle the cover to protect from south or SW sun to create a cooler summer retreat and help protect your cover for possible winter snow load.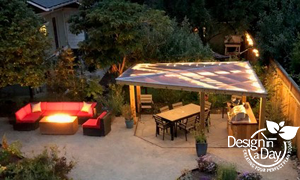 Mount Tabor Backyard Transformed into Year Round Outdoor Living
My clients in Mount Tabor also wanted the entire backyard turned into outdoor living space.  Their wood pergola structure has a translucent cover.  They especially love the drama added by lighting the top of the cover.  The light is very soft and diffused coming through the semi opaque cover.  They have room for cooking, counter and storage space.  The posts for the cover are set into the property 5'.
Design Tip:  We used the corner of the property to gain the most useful square footage and space.
Outdoor Office in SW Portland
This is my massage practitioners heated outdoor treatment room in her SW Portland back yard.  This was her response to keeping her clients and herself safe when Covid came into our lives. As her patient I love hearing the birds, including the buzz of hummingbirds and the squirrel scolding while getting my treatment.  No music required.  I have  been treated out here even in November and December.  The powerful electric heat in the top of the arbor is directed down by the shape of the cover.  The shape also keeps the rain out except when it is too windy.  I'm very comfortable and I love listening to the birds while I'm getting a massage.  This structure is wood with a translucent cover.
Concordia Backyard  Patio gets Cover with an Offset Umbrella
My clients Ryan and Sam live in a very urban area of NE Portland with a pub next door that has outdoor dining.  This landscape design in particular was a very collaborative process, even more so than usual.  We had a new back porch in the design but the expense (wood is so expensive these days) blew our budget.   We kept the old porch and steps and together created this outdoor room that is such a perfect fit.  It distracts from the next door pub garden, creates privacy, integrates the other two important areas of the backyard beautifully and is highly useable.  A collaborative relationship with clients and installer always opens the door for new and even better fitting ideas.
Design Tip:  Using an off set or cantilevered umbrella creates a physically and visually spacious dining area.  An umbrella with post in the center of the table often makes a dining area feel small and blocks potentially good views, in this case the steel privacy panels (which add so much pizzazz to the space) would have been greatly diminished.
Contact us
Looking for an outdoor landscape design that can create solutions for your city property with all its challenges? Contact us.  We have the experience to know what is doable and the creativity to find the best design for you and your wish list.