Diversity of Dogwoods – Part I
Dogwoods are a very large family.  There are twiggy shrub dogwoods whose hot colored stems light up the winter landscape.  There is a dogwood who blooms in March with yellow flowers and makes an edible fruit.  There are semi evergreen dogwoods we are experimenting with here in Portland.  This is the kind of knowledge homeowners need their designers to be up to date on.  When a client asks me for a dogwood I know its the visual and emotional impact of the flowers they are thinking of.  Designers think through the details to find the right variety for the clients size of yard and environment so our clients don't have to.  Landscapes come in all different sizes and environments and now so do Dogwoods.
Plant designers have been busy improving our old-fashioned dogwood tree into a garden designers dream tree. Our old dogwood varieties have problems that plant designers have been working on for 40 years.
They are improving drought tolerance, disease resistance (okay not sexy but important!)  and cold hardiness.  They've created new shapes that fit better into the urban environment.
What is sexy or desirable are the improvements made to the flowers.  Let's admit it, where dogwoods are concerned,  we want even pinker flowers.   Everyone wants more color than nature supplies on her own. There are darker shades of more intense pink red.
Spring Flowers
Varieties such as 'Little Ruby'  showcase the new strong colors.   'Little Ruby' is wider than tall.  She is  plump and round headed and can be used in the landscape as a shrub or small tree.
Another new variety is called 'Starlight'.  This cross is from our own native Pacific Northwest Dogwood;  the shape is upright and more narrow.  It works for your small yard or as a street tree. There's a beautiful 'Starlight' in the courtyard of the Edith Green federal building in downtown Portland as an example of a tree perfect for urban life.
'Venus' features ginormus white flowers which are 6″-7″ across.  Like 'Starlight' they produce little to no  fruit unlike the many Korean dogwoods hybridized and sold in the last 15 years.  In fact even Friends of Trees offer messy Korean dogwoods.  I confess I make a TSKK TSKK when I see the huge mess they make on the sidewalks. In the fall they drop a large raspberry colored fruit.  Friends of Trees is a fabulous organization and many clients have been happy to purchase an inexpensive tree and learn how to care for their tree.  I would use the fruitless varieties near walkways and for small yards and save the old fashioned fruiting types for large properties.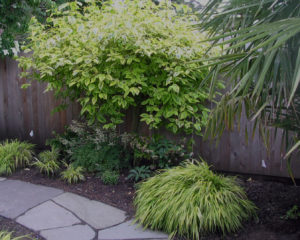 'Hedgerow's Gold' brightening up a shady area with Japanese Forest Grass as a ground cover to nicely echo the color.
Bright Summer Foliage
'Hedgerows Gold' grown for its gorgeous variegated foliage. This is a very easy shrub to grow, once it is established it can take some benign neglect. Grow it for the foliage first, but the fun fall color and exciting winter twigs makes it a four season plant.
Fall Color
Many Dogwoods also sport great fall color. The fall color is primarily in sunset shades, reds and yellows, and looks especially fantastic with an evergreen backdrop. On some varieties the color of the leaves turning is only enhanced by the unique twig colors – clear yellow leaves with bright red stems. Beautiful!
Winter Twigs
Some types of dogwoods are known primarily for their winter twig color – most often called Red Twig Dogwoods or Yellow Twig Dogwoods. 'Midwinter Fire' is a popular cultivar, but there are a wide variety to choose from.