Four Portland Front Yards Get Landscape Makeover
Pathways are an opportunity to connect your house to the land.
These clients in the Irvington neighborhood had a pretty dinky underwhelming entry path from the sidewalk that did nothing for their home.  The 2 huge street trees towering over their home meant the lawn under the trees would never be attractive and besides these clients were retired and the mower needed to be banished.
A new stone landing was installed along with a stone veneer on the porch steps and porch floor.   The humpy lawn was removed, gentle grading commenced to include adding boulders and new NW Natural Style plantings.   Now the entry of this Irvington home sparkles.  The back yard is designed for outdoor living and has a large patio, outdoor dining room and play area for grandkids.  Installed by D and J Landscape Contractors.
A New Entry Path Leads the Design for this Historic Georgian Home
This landscape re-design is an example where changing the entry walk made a dramatic difference to the curb appeal of this historic Georgian style home.  This house (in Grant Park of NE Portland) seemed to loom over its land.  My clients wanted the landscape design to complement their home. Now the new entry walk (and driveway) has the right proportions and fits with the strong architectural style of the home.   The landscape design puts the focus back on the marvelous front porch.
Rain Gardens in St Johns
This modern ranch needed a front walk.  My clients were done with walking up the narrow driveway.  The new front walk from the public sidewalk also improved access from the new wider driveway. Gardeners paths integrate this landscape beautifully instead of lawn.  A rain garden works as an accent to the overall NW Natural Style landscape and handles water from a disconnected downspout.  We carefully kept the old and lovely vine maple for privacy to the living room window, a mature Fatsia japonica, and several tree like rhododendrons.  Some of the new plants in this design are:
Magnolia grandiflora 'Little Gem'
Erica Carnea-Spring flowering heather
Brunnera m. 'Jack Frost'-azure blue flowering groundcover with silver and green leaves
Spirea japonica-low maintenance easy care summer flowering shrub
Pinus mugo 'Sherwoods Compact' a specialty dwarf pine
This design was installed by D and J Landscape Contracting 
Rain Garden Becomes the Focal Point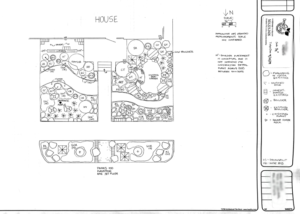 This modern craftsmen style home in St Johns belongs to a serious DIY client of many years.  She wanted a working rain garden as the focal point of her front landscape and no lawn.
We worked together on a Landscape Design in a Day to refine her front yard design, rain garden design and add paths and plantings.  She acted as her own general contractor and managed the installation.  The crew she hired was inexperienced but she was able to guide them.  While working with them was quite a bit more work than she expected, she prevailed and the installation finished well with attractive boulder and stone placement.  The rain garden handles most of the rain off her front roof.  We also made a wide spot in the path for her neighbors to get out of their car into her path.  Like many city properties there wasn't much room between houses. The photo shows her freshly installed plantings fall of 2020.
Some of the key plants for the rain garden are Gold Sweet Flag – Acorus gramiense 'Ogon',  Inkberry – Ilex glabra 'Shamrock' and Juncus ' Blue Arrows' – a cultivated variety of a native rush.
Privacy Landscape Design and Modern Curb Appeal in Kenton Neighborhood
This simple modern landscape design gave this Kenton neighborhood home much more than curb appeal.  There is a hidden seating area in addition to easy access from the driveway and the public sidewalk. Our clients didn't need a lot of privacy, but enough to avoid accidental eye contact from walkers by.  Clients acted as general contractor and used M and J Landscape from Salem for the install.  Alana Chau designed this landscape and placed plants.  See more of this project.