Before: Skinny and Tricky Lot      
Last month, we highlighted the 'Hidden Craftsman Gem' redo. One of my customers emailed me saying it looked like it was doctored in Photoshop.  I took it as quite the compliment!  It was indeed a very dramatic before and after photo! We could not have completed the installation so quickly and beautifully without a team effort – designer, clients and contractors working together – are what makes a design sing.
This month, we're showcasing something different.  Instead of working with an established landscape, I started with a clean slate and clients who preferred to be more hands-on.  We completed our Landscape Design in a Day for the front yard pictured below. The large back landscape was designed and completed the following year.
"We planted it exactly as designed and it turned out great!" – John Osborn
After: Calming Entryway
My clients had a funny pie shaped lot. Well over half the front yard needed to be hardscaped. I designed the front walk in large paver squares and ran plants between. This was very successful in visually breaking up the large amount of concrete. Working with their builder, Rick Waters, we selected the paver color and finish in subtle shades of similar colors. This trick makes the hardscape look smaller than it really is.
The water feature was hand built by the homeowners and turned out fabulous! We put a lot of thought into the sound as well as the appearance. The boulder fountain used an echo chamber system we recommended. It sounds great. They have enjoyed many compliments.
We have been plagued by uncooperative deer who have not read nor do they follow along with the list of plants they are not supposed to eat! The specialty dwarf twisty Spaan's Dwarf pines were fine for three years. This spring the deer severely damaged them. The Tiarella ground cover also proved to be a tasty treat.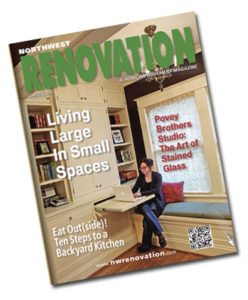 I often work some minor miracles with difficult landscapes. The design for the Osborn's has worked very well to match the beauty of the home. Their home will be featured in an upcoming issue of  NW Renovation Magazine.
What's happening in your landscape?
Call 503.223.2426 or 
email
 today to get your landscape beautification process underway!