Hardscape Landscaping Tips for your Firepit
A Portland residential landscape designer shares her thoughts about placing a firepit.
My client Lisa had a dream about sitting out in her garden even when it's cold.  I was enthusiastic until I heard she wanted a fixed location firepit.  I'm a little nervous about long term commitments when they come to firepits.  I've seen too many whose poor placement ruined the flow of the entire back yard.  It can be awkward to use and too expensive to remove and correct.  Here's how I think about it.
The Firepit Must Be Integrated into the Design
The fire pit must be visually subordinate to the overall garden design.  It's easy to get excited about a firepit and forget about the other purposes of the backyard.
It must be integrated into the design and must work well with the other functions of an outdoor living room. For instance, there has to be ample room between the firepit area and the dining area or it feels clunky and cramped.  Lisa's dining table is on her deck so we had no crowding issues.
Watch out for Pointing Corners
When the firepit is a square or a rectangle we need to be sure the corners are not pointing at the door to the house. Walking toward a strong point doesn't feel inviting, it's a basic feng shui principle that is very powerful and I keep a "sharp" eye out to avoid this problem in all my designs.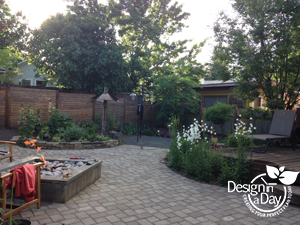 Strong Contrast
I prefer the materials for the firepit and the patio hardscape have strong contrast.  The patio surface is square concrete pavers so we went with a multiple sized natural stone for the firepit walls.  This is important.  It will look outright bad in my opinion, if this contrast is not factored into material choices.  Concrete paver for the patio and then repeating something similar or worse, matching is my idea of a mistake.
Visual Integration
The way I made the firepit subordinate visually was easy since Lisa is a serious gardener……….by which I mean she is knowledgeable but very serious about having fun with her plants. There are 4 rooms to this garden. The firepit, the bird sanctuary patio, the existing rustic deck, and the raised sun garden. The plants weave in and out of these rooms softening the entry to each
room and integrating them into one garden. I also love how the angle of the firepit wall leads the eye straight to the bird sanctuary patio.
We worked closely with D & J Landscape Contractors and NW Natural gas company for Lisa's gas firepit. She met with the gas company and made the final decisions. The result is fabulous. It's large enough to provide real heat and the ambiance it creates is so welcoming.
Landscape East & West, a large local landscape installation company has a blog regarding fire pits.
If you have a landscaping project that you want to include hardscape to, contact me for an appointment.