Woodstock Mid Century Modern Landscape Design Remodel Starts with the Right Fence
Mid century modern landscape in Woodstock neighborhood
I got a phone call from Larry and Jan.  I could tell we were a great match from the first phone call.
This 1955 home sits on the corner. The white vinyl fence was on my goodbye list before I finished parking. It dominated the house and made some of the landscape problems 500% worse. It was new and expensive. I hoped they would not be appalled to learn I wanted it gone.
I walked into their house and I swear it felt like the house gave me a hello hug. There is a sense of a cape cod beach house owned for generations hidden in this modern mid-century. I could almost smell the pie.
Jan is a fabric artist and Larry has a keen appreciation of design and how things work together. This was going to be fun!
The great room is all windows and makes the landscape outside of the home an intimate part of the inside of the home. The basement was beautifully finished with significant day light windows. They loved the light. My landscape plan would need to protect the light coming in from those windows.
My clients are neighborhood oriented. They like being across from the grade school and seeing kids come and go with their families. Yes, people could see them through some of those wonderful windows and no it didn't bother them.
Clients Wish List
Maximize view from inside the home by adding year round colorful plants
Summer flowers and hydrangeas and hostas for Jan
Create a more inviting entry
Expand the back porch for BBQ and access to a new covered deck or patio
Use a coral bark maple given to them as a housewarming gift
Covered outdoor dining area for 8
There was some thought to having no fence at all or keeping the fence that came with the house
Designers Take
The right fence would be the hero for this design. A fence connects to the architecture of a house more than any arrangement of plants. Even a tree, unless it's huge does not have the trans-formative power of a fence. Get it wrong and it will bring the entire landscape and home down to its level. The right fence needs to be subordinate to the house and work with the style of the home not detract from it or cheapen it.
Getting It Right
We all loved the design layout drawing that broke the straight lines of the fence and made space for plantings along the sidewalk. I worked through several versions of this design and my clients selected their favorite. They loved the fence I found on the Houzz site. It was a happy day when I saw the existing white vinyl fence being hauled off for donation to Habitat for Humanity Restore.
Covered Dining Area and Deck
We enlarged the back porch and brought a large covered dining area around the back corner of the house. The deck and cover stops before we get to the array of windows. I didn't want to see deck furniture or lose light. The deck cover is a louvered roof system from Cardinal Motorized Pergolas. Larry and Jan were very pleased with their representative Kathy Hammer.
Jan preferred a flagstone entry path. It would look best with the original concrete porch side yard walk and brick planters. The flagstone would add contrast and create visual softening.
Synthetic Lawn, Planters and a Bench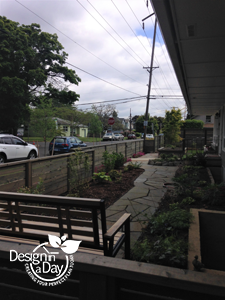 Raised planters answered Jan's desire for herbs and a few edibles. The proportions of the planter, and an attractive construction, integrate nicely with the overall design.
Synthetic lawn is easy care and got their grandchild's stamp of approval.
Installation
We moved into the installation phase without completing a planting plan because we knew we wanted to tweak the fence and path placements on site. I would never do this unless I have a long term working relationship with the contractor. I've seen many fantastic designs go down in sad smoke because a contractor redesigned and installed what he wanted.
I introduced my favorite landscape contractor, Donna Burdick of D & J Landscape Contractors and Victor Vincell, a building contractor with a most excellent eye and know how. The five of us, clients, designer and contractors worked together and a happy installation followed. The planting plan was completed and installed including a large Coral Bark Maple.
Finishing Touches Add Entry Appeal
We went with a flagstone path (over modern slab pavers) for the entry and kept the original concrete porch and path. Keeping these elements worked well with the original brick planters which were painted a charcoal to go with the new colors of the house. The flagstone added a natural effect.
The clients replaced the skinny gutters (which didn't handle the volume of winter rain water properly anyway) with nice big fat ones. It was amazing to me how this change amplified the modern style. The house body, trim and brick planters were painted, and the fence carefully stained to work well with the new colors.
The clients selected a bench to give the north side path a destination and provided me with a list of street tree options for their parking strips.  I selected Nyssa Sylvatica -Black Tupelo, two 'After Burner' for red leaves and one 'Tupelo Tower' for orange gold leaves. They were planted just in time to see their beautiful fall color.
Client Comments
Here is what Jan and Larry had to say about their experience.
"We loved our experience with Carol Lindsay of Landscape Design in a Day.  She understood us and our house and exceeded our expectations. The difference in the welcoming appeal of the house and the usability of the landscape is night and day. Her unique collaborative design process worked well for us. She suggested Donna Burdick of D & J Landscape Contractors to install and our experience with Donna was also over the top excellent."