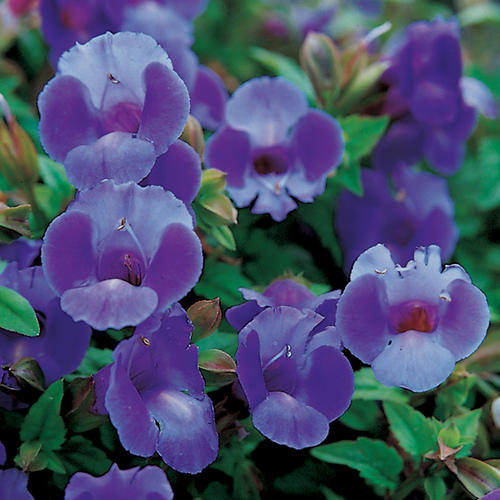 A warning about a new mildew problem affecting colorful, shade standby annual impatiens and Landscape Design in a Day alternative recommendations:
It's bad news, but the Oregon Association of Nurseries Digger Magazine issued a warning about a new mildew problem in a colorful shade standby—annual impatiens. This elegant annual provides a season-long burst of color in the summer landscape. For decades, if you wanted colorful flowers in the shade, this plant was the standard.
The perpetrator is downey mildew (Plasmora obducens) and it's now a common problem here in Portland, Oregon.
How bad is the problem?
Bad enough that gardeners may need to find a substitute for one of America's favorite flowering annuals. The first outbreaks were in Germany in 2007.  How small our world has become!  To learn more about this outbreak,  read on for my suggestions on substitutions:
Put Down that Fungicide!

Mike Darcy says "It isn't practical to try to control this mildew with sprays."  Who wants to spray chemicals on their plant at all, let alone every few days? That's what it would take and even then it wouldn't work all summer.  Many fungicides are also lethal to honeybees and frogs too.
He also says, "Some home gardeners are reporting success with their impatiens that are in pots but not in the garden ground." That's a little good news and I'm seeing happy and healthy Impatiens in baskets and planters this summer (2013).
Choosing Shade Garden Substitutes
When it's time to use alternatives, here are some good ones:
New varieties of Begonias
There are better colors and pillows and billows of flowers so these are not your grandma's begonias anymore.  Most of these new varieties are self cleaning so you don't have to deadhead. YES!
Be careful to purchase Begonias that flower well in shade.  They have many varieties that must have half day sun to thrive.  Dragon Wing® is a great variety because it will do well in either shade or part sun.  Angel wing begonias are taller than impatiens, billowing up to 24 or 30″ tall.
Summer Wave® Blue Torenia
This filtered-sun lover provides superb color throughout even the hottest months of the year and does well in pots and window boxes. This annual thrives in high humidity.
Coleus
Crazy with color these days – be sure to select varieties for shade – as there are many Coleus for sunny areas now that do not do well in shade. This is opposite of 20 years ago when all Coleus were meant for shade.
Heucheras
Coral Bells are VERY colorful and newer varieties flower much longer than older ones.

Lobelia
Lobelia such as Laguna™ Sky Blue must have some sun to be successful.  Pair it with ColorBlaze® 'Sedona' Coleus for a dazzling burst of summer color.

Plant photos courtesy of Proven Winners