Outdoor Pee Pad for Dog – A Portland Landscape Designer's Solution
I live on a floating home and when my dog has to go pee or poop, the parking lot is a long ways away.  My perfect solution to living on the river with a dog, is synthetic lawn on my small garden balcony.  I have the advantage over most people with a deck or balcony because we designed the house to have a small roof garden with real soil.  It was easy to add the synthetic lawn over the existing soil.  Not only was it easy, when my dog pees on her synthetic lawn, the rain rinses it into the soil so it doesn't smell.  In the summer when there is no rain I rinse the grass using a garden hose.  As you can see Daizzie likes to lay on her grass so it is used for more than an outdoor pee pad.  I enjoy sitting out there with her or drinking coffee from my outdoor sofa.
When she poops on her synthetic lawn it is easy to pick up unless she has diarrhea and then I do need to rinse with my garden hose.  The dog poop always goes in the garbage because I don't want to add nitrogen to the river, I mean come on, just because it's dog poop doesn't mean it isn't raw sewage.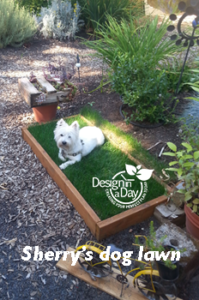 Another solution is a raised bed for grass.  My client Sherry has small dogs and no lawn except for this tiny patch.  She just replaces the grass in her raised bed occasionally.
Portland is a city that is very dog friendly.  As a Portland landscape designer I have lots of wonderful opportunities to create dog friendly landscape designs.  I consider it one of my best job benefits.