Portland Landscape Designers Visit Front Yards in NE Portland
We enjoy visiting our installed landscape designs and today we are in North and NE Portland.  We will see installed front yard landscape designs and gardens in St. Johns,  Rose City Park and Cully neighborhoods in Portland Oregon.
We started near the St Johns Bridge to see a corner property landscape design.  Our client David has been working on his landscape for about 4 years now and this espalier has matured under his careful tending.  It's on the sunny south side and is perfect for fruit trees.  The espaliered apples also act as a buffer from the public sidewalk.
Modern Landscape Design in Kenton has Drought Tolerant Plants
Three years ago this client installed her modern hardscape landscaping design and planting plan.  The focus was low water  plantings for a sunny west side front yard.   The main plantings in this modern landscape design are Arizona blue cypress, California lilac, heather, yucca, euphorbia and various succulents to include lots of hens and chicks.  We also jazzed up the entry of the house so be sure to see the before photos.  Our client was very talented….too.
See our previous blog about curb appeal for the story of the hardscape landscaping and more photos.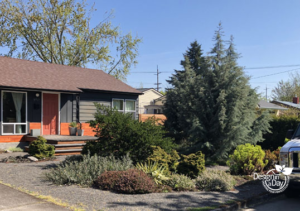 Kenton Neighborhood Home has Uber Modern Landscape Design
Next we visited a fairly newly installed front yard and got to see the puppy who was brand new on the day of the on site Landscape Design in A Day.  On the design day (where all the collaborative magic occurs) Ruby, (the puppy) was just settling in from adoption so Alana got in on the new puppy energy.  Ruby is now 7 months old but still has her soft puppy fur.
Besides petting the puppy, we  loved the installation of the design, especially the front walk  and the modern touch using steel for the step.  This design (by Alana Chau and her clients) gets our clients many compliments on their modern front entry garden and outdoor living area. Read more…
Irvington Landscape Design Clients Lose Japanese Maple
Visiting the Irvington neighborhood we came to mourn the passing of a special Japanese maple from dreaded verticillium wilt.  This backyard courtyard style landscape is about 3 years old and the after photos are the most popular photos on my web site.  The clients are leaning toward a dogwood which is resistant to verticillium wilt.  I also suggested Crape Myrtle such as 'Arapaho' or 'Dynamite'or  'Natchez'.  For Manzanita I suggested a small tree form that stays fairly narrow, such as 'St. Helena', 'Monica' or 'Sentinel'.   This back yard was designed for outdoor living and privacy and had many assets on the property prior to the design.  Read more……
Cully Neighborhood Front Yard Transformation
Here is a quick drive by of a complete re-design of a Cully neighborhood ranch style home and landscape.  The transformation of the front entry is dramatic.  On this day we especially wanted to see the south side of the front yard.  It's the first year the California lilac was big enough to show off all those pollinator friendly blue flowers and here it is making a good showing.  To see the entire front yard transformation, check out our blog.
Rain Garden Takes Focal Point in St. Johns Front Yard Landscape Design
This client and I have worked together many times over the years.  She typically DIYs the entire project.  This time, she acted as her own general to install this landscape and had many adventures but the results as usual are quite lovely and satisfying.  Best of all, her rain garden handles most of her roof water just as she had planned.  She is located in St. Johns and the landscape here is newly installed.   Some of her plants are Ilex glabra 'Compacta', Acorus gramineus 'Ogon', and various Juncus, a native ornamental grass.  The photo was supplied by the client.
Do you have a city front yard that needs a collaborative and creative design?  Contact us, we would love to talk with you.