Do it yourself garden design
I really enjoyed working on this Landscape Design in a Day project. Galen did all the measuring and all the work himself (except the concrete patio). This is a great example of what you can do with a plain backyard, some do it yourself garden design initiative, and a little help from your garden designer. I just have to share his kind words.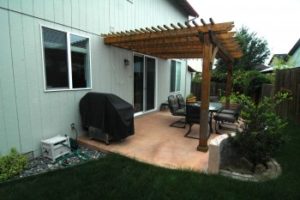 "Working with Carol was a very enjoyable experience. We knew what we wanted but needed someone to tie it all together to give it that professionally designed look. She listened to what we wanted from our backyard and helped us plan out the best use of space. Our backyard was very small and irregular shaped so it made things very difficult. We wanted the backyard to function as a gathering place but also as a play space for the kids while trying to hide the close proximity of the neighbors. We described our goals and she provided us with 3 different options. Once a design was chosen she expanded on the plan to help us choose the colors and textures of the hardscape and choose plants to best fit the space.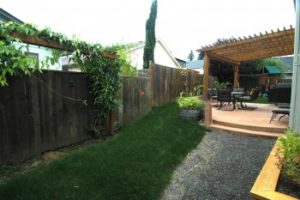 We served as our own contractors and did much of the work ourselves to keep within our budget and Carol was very mindful of this during the design phase. I would not hesitate to use her again and would recommended her to friends, in fact our neighbors liked so much what she did for us they used her for their backyard as well."