Privacy Designs for Small City Landscapes
I like to use clumping bamboo for my small city properties to achieve privacy and to screen out unattractive views.  Here are 3 small city landscapes that make good use of clumping bamboo.
Private Entry Garden in Busy Hawthorne Neighborhood
These clients created a private entry garden on a very busy street. They used a clumping bamboo with a strongly arching, almost weeping structure called Fargesia sp.' Rufa'.  The need for a feeling of an oasis around the home in their friendly neighborhood outweighed the need for security. The front gate discourages uninvited visitors. Neighbors cannot see into the front yard and the clients cannot see the sidewalk or the cars.
From inside the home they look out their windows to see curtains of green and it is very restful.  The back yard is so small that they tend to do most of their outdoor dining and entertaining in the front yard where the privacy is perfect for intimate gatherings.
NE Portland Home gets Kitchen Window Privacy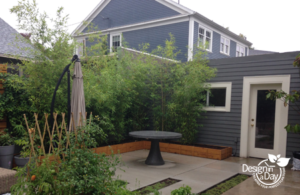 Everyone spends lots of time at the kitchen sink.  My NE Portland clients had their kitchen window lined up perfectly with the neighbor's kitchen window.  The lots in this neighborhood are small, 5,00 square feet and less.  This tiny city back yard needed privacy and needed it fast.
We wanted our privacy screen to be at most 10' tall with a very upright growth habit to preserve space.  In a yard this small we needed every useable inch!  We used the clumping bamboo named Fargesia robusta 'Campbell' again and if we had used a weeping form like the 'Rufa' that would have been a mistake for obvious reasons. The client and her brother are very talented and installed everything including the new concrete patio.
Privacy for Irvington Back Yard with Clumping Bamboo
These clients in Irvington neighborhood wanted privacy and also wanted to screen out the house and roof of the large house next door.  The home office also had a large window looking out onto the 10' wide side yard and into a view dominated by the neighbors overly large roof.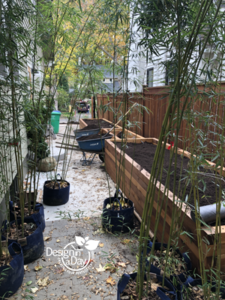 I want solutions that work, not solutions that make work.
They specified screening that was going to be 15' tall and evergreen.  They also wanted low maintenance.  It was on the north side and even if we wanted arborvitae, I was concerned we would not have enough light for them to thrive and maintaining them at 15' was going to take a long time and then require professional pruning as well.  There were lots of plants people typically use for this situation and they are all going to be high maintenance and potentially trespass onto their neighbors air space and light.
This was a perfect place for clumping bamboo.  To get the plants at the 15' mark we had custom planters that were 30" above the grade built.  This would give our plants a boost so they won't have to wait as long for the screening.
Caveats:  The plants will make some leaf debris year-round but especially in the spring. The plants will require regular irrigation forever.  They are not drought tolerant.  And even with a few minuses, let me tell you, this is a lot less work than other options for a 15′ screen.
Clumping bamboo, in particular Campbell's Variety, is an excellent choice for small city back yard and privacy solutions. For an even taller clumping variety consider Fargesia robusta 'Green Screen'.  It is more likely to top out above 15' tall.  Clumping bamboo do not need to be contained in a planter.  In this case, the planter is there to boost height and to have other plants in it to complement the clumping bamboo.
For more information about clumping bamboo see Bamboo Garden web site.
Looking for attractive and thoughtful solutions for privacy in your small city property?  We love tricky city backyards! Contact us.