Hardscape Landscaping & Updated Deck in Roseway Neighborhood
My clients Michael and Bruce purchased a home in NE Portland Roseway neighborhood. Their new home and neighborhood is perfect for them and this will be a long term home. Here's the wish list:
a covered deck area
a hot tub
small motorcycle storage shed
a forest like naturalistic back yard with little to no lawn
Think Like a Designer
When I design a landscape,  first I think about all the ways a person will walk from the house and through the yard.  I find out what activities my clients want to do in their back yard and note those on my drawing.  Next I create concept drawings that show the hardscape and layout in different configurations.  Let's start with the deck.
The Deck Design Must Have Room for Walking and Activities
A lot of decks are flawed from the beginning because no one thought about how much of the space would be monopolized by how you need to walk through it. Often people settle on the shape and size of the deck  going for a simple rectangle without thinking about the different activities that will take place on the deck and if there is enough room for those activities.  It's also important to remember that the deck is often the gateway to the back yard.
The existing deck was only 8' deep, 26' long.  It had too many interruptions of that space to be useful.  First the stairs leading to the yard (which were placed in the middle of the long deck) ate up too much of what could have been a nice outdoor dining table area for 4 outside the kitchen.  The stairs encroached on the potential area for a dining table for 4.    Another space stealer was the door to the basement also placed right in the middle of the back wall of the house and so right across from the deck steps and so the middle section of the deck was also not useful.
2/3rds of This Deck Was Used for Walking
The last 1/3rd of the deck was useful sitting space, about an 8' x 8' area out of this entire 26′ long deck.  My clients knew it didn't work, (it is my job to know why it didn't work).  They just knew they wanted something better.  Also, currently all activity on the deck was on stage for the neighbors and so along with  creating functional deck space. I will address privacy and screening solutions as well.
Deck Concept Drawings
We created a few layout drawings with the clients that showed different ways to use the space.  Here's an example of one of the concept layouts I created.  While we didn't go with this one it paved the way for the final concept we loved.
We added more dining space with an easy to access patio at the base of the deck.  It integrates the two outdoor living areas and now with 2 seating areas we can use the middle section of the deck for grilling.  My clients love their green egg BBQ by the way.
Using various concept drawings I drew for them at their dining table, we worked through them together pro and con style to arrive at the favorite configuration.
Planning for a Cool and Shady Outdoor Living Area
In this next blog we will show how we worked with their existing shade tree and how we created a more lush and verdant landscape garden for this NE Portland Home.
Client Comments
One of the things my clients told me they loved and were both surprised and excited by was my moving the stairs.  They couldn't believe how much more functional space was added.  By moving the stairs we were able to add the new lower patio surrounded by lush plantings that could also be seen from inside the house year round.
They also appreciated my bringing in an arborist to determine whether their large shade tree could stay  and how they should take care of it.  This was something that would not have occurred to them.  They worked with Issac from Honl Tree Care.
I needed to know if I was going to be adding another shade tree or whether their existing tree had staying power.  If Queenie needed to go, replacing her with a small tree means no decent shade for 15 or 20 years.  Queenie is a very large Norway Maple and soo she does not have a good reputation or pedigree.  Norway maple trees are on the city's nuisance list.
Contact Me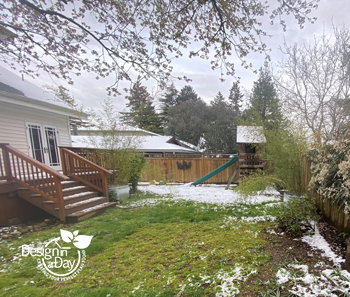 We love working with our clients to create practical spaces to enjoy outdoor living.  Contact us if you would like to have sitting and dining areas that are big enough to use and have good flow, have privacy and ultimately a back yard you will love to be in.