Hardscape Landscaping Design Leads the Way for the Perfect Mid Century Welcoming Front Yard.
Are you tired of your front yard lacking curb appeal? Is it downright unattractive?  Do you want a space that is not only beautiful but also eco-friendly but can't imagine how to do that on your own?  Look no further than our friendly Portland based landscape Design in a Day.
Our clients wanted a great landscape design for this mid century home in SE Portland.  They decided they didn't have what it took to envision a front yard landscape worthy of the house.  They knew there was a fabulous design just waiting out there but needed a designer even though they are typically all DIY.
This blog is fun to write because I get to brag about both the  Landscape Design in a Day designer, Alana Chau and the talented clients, Val and Holli who hired us.  With their DIY spirit and skills and our expertise as landscape designers, we were able to create a front yard that well exceeded their expectations.
Hardscaping Landscaping Style was Modern but Informal
When Val and Holli reached out to us, they had a clear vision for their front yard.  A real front walk was a must have.  No more walking up the driveway to get to the front door.
Plant Preferences were Natives and Drought Resistant Plantings
They wanted to incorporate native plants to attract birds and pollinators, create a rain garden, and improve the approach to their house. They were ready to tackle the installation themselves, but they needed help with the design aspect. That's where we came in.  After talking with them I selected Alana Chau to be their designer.  She has an affinity for modern style design and a love for mixing our native plants with low water Mediterranean plants like lavender and ornamental grasses.  And she creates magical designs that fit her clients and make them happy.
Hardscape Design
One of the first changes Alana suggested was reimagining how to approach the front door from both the street and driveway. By creating a new entry path from the public sidewalk using poured concrete slabs in rectangular shapes, we were able to give the house a mid-century modern look while connecting it to the neighborhood.  The spaces between the large slabs add an informal touch which was very important to the success of the design. Our clients didn't want formal.  She also added pavers on the side of the driveway for attractive and easy to use, dry-foot access out of the car.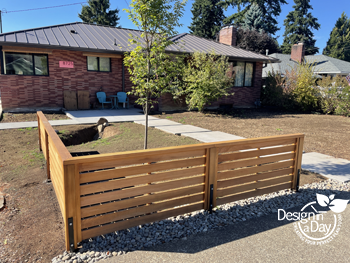 Low fencing works well with Mid Century House landscape design because the house has a strongly horizontal and low line.
Layout of the New Welcoming Front Walk
Working closely with Val and Holli, she presented several different layout options that would transform their front yard. We wanted to give their house a welcoming entry walk while incorporating their wish list items. After much discussion and collaboration, they all chose their favorite layout, which included a sitting area for two, designated planting spaces and a fence.  The low fence integrated the house and the land and also highlighted the new entry walkway beautifully.
Drought Resistant Colorful Plantings
As for the plants, we selected a variety of drought-resistant colorful plantings, including some native plants to bring their vision to life.
See our next blog where we will share about the exciting plants selected for Val and Holli's design and a peek into their DIY experience.
Client Testimonial
Thanks to you and Alana for making the transformation of our front yard possible!  It was a terrific experience and the results are way beyond anything we could have ever designed ourselves.
Val and Holli – Ardenwald Neighborhood in SE Portland
Contact Us
We love to work with clients who want something special for their front yard.  Let's do this together using our Landscape Design in a Day Process and discover the best design for you and your home and our community.  We prefer to create a design that fits your need for lower maintenance and also supports our environment in these times of climate change.  Contact us.