Portland Plant Tips In Kern Neighborhood Residential Landscape Design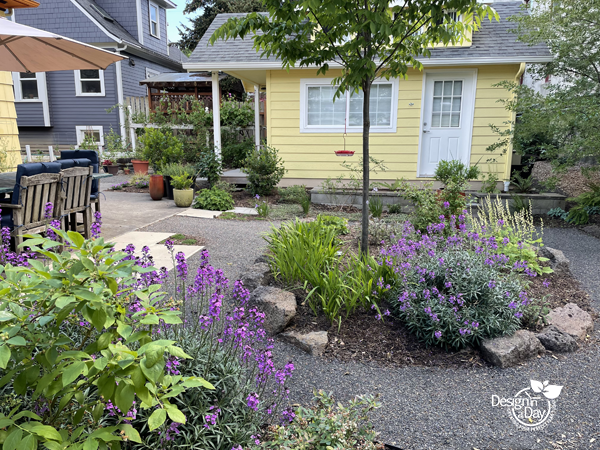 In Part 1, I dropped by my clients Chris and Veronica's Kern neighborhood back yard to get my eyes on their privacy tree, a Japanese elm called City Sprite planted 3 years ago by Landscape Design in a Day. It was doing beautifully but my clients had concerns that a talk with Honl Tree Care addressed. My visit also included some tips for the rest of the plants in their landscape design.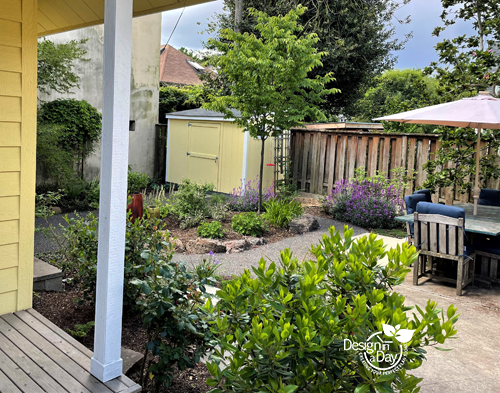 Plant Health Care Tips
While I was there, I enjoyed seeing how much all the plants were filling in and checked on a few plants Veronica wanted advice about:
Weed Prevention – To control the seeding on our native Heuchera and Fringecup perennials, cut back the flowering stalk before it goes to seed.  These two perennials provide food for bumble bees and many other important pollinators.  Also be sure to do this with the non-native Lady's Mantle.  I like to pick the flowers of Ladys Mantle ( Alchemilla mollis) so yes please leave the flower on for the bees but be sure to deadhead it before it goes to seed and spreads.
Re think and edit the plantings under the elm. A few plants are not getting enough sun now that our tree has gotten so much bigger.  The culinary purple sage needs a sunnier spot and could even go in a big pot and be moved.  I don't see a good spot in the other planting beds for it so I would go for the pot approach.

The summer flowering Daphne and the hardy fuchsia near the purple sage look fantastic and can stay. The mass of Crocosmia we kept from the old garden is getting so big it is a little out of proportion.  You can always thin the Crocosmia.  Split the plant mass and remove the stalks in the middle as they are the oldest ones. Or maybe you are enjoying that very low maintenance plant as a large mass.

Here is something to deal with soon.  The root weevil population is increasing. See my blog for no chemical advice on lowering their numbers.  They sure spoil the look of many part shade plants.
Your fun stepable groundcover that softens the edges of the big architectural slabs, Cushion Bolax, can be trimmed once a year or more to prevent it from growing over and minimizing our large pavers. Why trim it off the pavers?   Because the large pavers shape adds an attractive architectural element to the landscape overall and if it gets covered with the groundcover, we lose the impact.   See initial blog post from 2021 with testimonial from clients Chris and Veronica.
Privacy Landscape Design in N.E. Portland
We love working with tricky city back yards and want to help you enjoy your back yard.  Most of us want some privacy to entertain friends and family, and  to use your back yard for fun activities or relaxing.  Our back yards can also help our community by providing for pollinators and creating shade and cooling.  What's on your wish list?
Let's work together and transform your back yard into your private and perfect place to be.