Kenton Mid Century Modern Landscape Design
My client Wendy, in the Kenton neighborhood of North Portland, wanted a landscape designer to help her realize a mid century modern landscape design style vision.  Her mid century modern was built in 1957.  She had a lot of ideas of her own and wanted a collaboration.
Kenton mid century modern landscape design specifications
She wanted to use her existing porch (which she had built herself) and her 3 Arizona Blue Cypress which were already planted.
No lawn
Dramatic colorful foliage plants (she loved yucca plants and succulents)
Low water to drought tolerant plantings that would thrive in hot baking afternoon sun
The plants to create a sense of privacy from the street without losing an inviting presence.
She planned to DIY the entire landscape
Collaborative landscape design process
On our Landscape Design in a Day appointment, we walked around the property and talked, and I sat down to draw. I created 2 different conceptual drawings that fit Wendy's specifications.  About halfway through our day I presented the drawings, she looked them over and selected my first offering.  We worked together on the details and I designed planting plan with my client.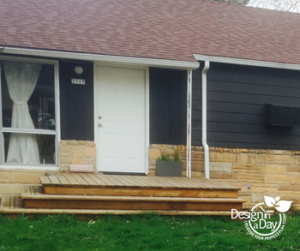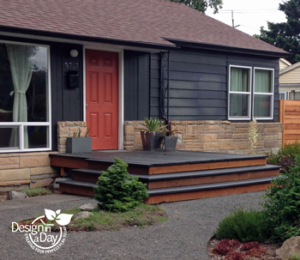 We reworked some basic details for the existing front porch. I had her paint the downspout the body color of the house. Such a simple but very effective thing. She also replaced a white wood post with a period metal filigree post. It looks really smart now!
Good bye Lawn – Hello Plants
The new planting beds are shaped so we have an open view of the porch from the street, from the driveway side and directly in front. The west side view is screened by a curved bed that showcases the 3 cypress.
Three years later her Arizona cypress has grown and nearly tripled in size. This summer photo shows the blue foliaged Cypress with flowering soft yellow Helianthemum 'Wisely Primrose', a rock rose. Burgundy foliaged hens and chicks, euphorbia and heathers complete this bed.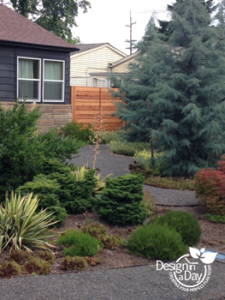 Euphorbia – perfect hot sun plant
The front border in summer is a billow of euphorbia flowers and tall sedum, a variety called 'Xenox'.   Euphorbia is perfect for a hot sun situation and fits with all the low water needs plants.  This photo shows the flowering euphorbia in mid June at the perfect time for pruning it. I mention this because this plant is only low maintenance if it does not seed and only looks good in winter if it is pruned in early to mid June.  If this is not done, people will wonder why their designer suggested it as it will seed about and look very very ugly in the winter instead of delightful.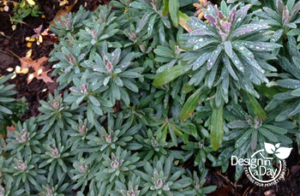 When we prune the euphorbia flowers stems all the way at the base, the remaining young foliage gets sun (because the billow of flowers and flowering shoots are gone) and will grow thick evergreen shoots and leaves. It will become very attractive again in just a few weeks.  These leaves will carry all the way through the rest of summer, into winter until the next early summer flowering. Next early summer (early to mid June) the flowering shoots will be cut all the way to the ground again.  If you don't want to prune them correctly, don't plant them.  
Wendy's installation phase
Wendy is what I call a "No Fear DIY er" after all she built her own porch. She also installed the landscape design.  This included grading, extensive soil preparation and path building.  She purchased her plants through my plant broker and planted everything as well.  I'm always delighted when people use my broker because this means when I drive by someday, I will see the design we created.  Going to the nursery, which is wonderful fun, can also be the downfall of many a design.  Too much plant substitution happens and the substituted plants (not the ones I picked) get too big, spread aggressively, or are not in the right place so fail from too much or not enough sun.
It was lovely to drive by and take these photos on a drop by, (I was not able to get a hold of her prior………..hence the hose is still out.)  The landscape (front garden really) looks great and is holding up well.  I had worried about this hot sun garden last summer,  2018 was such a scorcher.  Her blue cypress will rapidly grow too big but they will be wonderful for another 3 to 5 years……. which she felt was worth it.  Aren't they beautiful?
Drought tolerant plant list
Rock Rose
Pacific Mist
Manzanita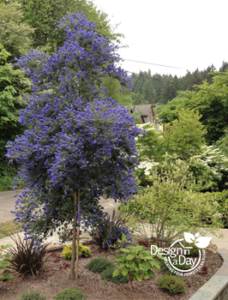 California Lilac
Yucca 'Color Guard'
Euphorbia Char 'Humpty Dumpty'
Sedum 'Xenox'
Hens & Chicks
Dwarf Pines
Heather
Echinacea
Contact me if you would like to discuss a modern landscape for your yard.