How A Garden Helps Your Portland Family By Helping Bees
As a parent, you work hard to help your family. That means you have to look out for their welfare. And believe it or not, that includes helping bees.
These insects do a lot for your family, but they are disappearing at an alarming rate. Thankfully, your family can support bees by creating a garden. Not only will this help them thrive, it's fun for you and your children. But first, you need to understand why a dwindling bee population is a problem.
Bees Are Vital To Your Food Supply
The secret to why bees are so important is one word: cross-pollination. This is when pollen from one plant gets to a new plant. Pollination is what creates seeds to grow a new generation.
This is where bees come in. As they fly from flower to flower, they cross-pollinate plants. National Honey Bee Day tells us that 50%-80% of the food supply depends directly or indirectly on pollination by bees. Some of the crops that depend on bees for new seeds each year are apples, watermelons, coffee, strawberries, and even plants used by cattle as food.
That's why this is a big problem for your family. Without bees and pollination, many foods your family enjoys will either get very expensive or disappear altogether.
Creating A Bee-Friendly Garden
Thankfully, your family can do something to keep those foods on the table. It starts with a garden.
Bees need flowers for food. The more flowers they can find, the healthier they can become. This leads to more bees, helping their numbers get back to where they used to be. That's why your family can help by creating a garden at home that bees will love.
Beverly Bees has several tips for helping your garden work for this.
You can pick flowering herbs (basil, mint, sage), flowering vegetables (broccoli, cucumbers, strawberries), or just flowers.
Group the same plants together in the bed to make them more attractive to bees.
Pick plants that bloom at different times of the season so bees have a constant food supply.
Late winter and early spring plants are harder for most people to plan for.  Here is Carol's blog about flowers for winter bees.
When you visit your local garden supply store, it might help to know some terms about gardens and landscaping in general. HomeAdvisor.com has a great glossary of these terms so you know what you're talking about.
Health Benefits Of Gardening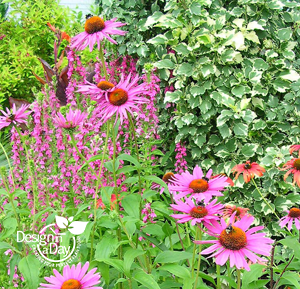 Designing a garden will help bees stay healthier, but your family will benefit from it as well. Organic Life explains five surprising ways gardening can help your family's health:
Reducing stress and anxiety.
Decreasing risks of heart disease and diabetes.
It improves happiness.
It cuts the risk of Alzheimer's by half.
It improves sleep.
Gardening can also improve everyone's self-esteem. This activity reduces cortisol in the body, which helps you feel better about yourself. In fact, just seeing your garden growing can help people feel like they did something helpful.
A Garden For Bees And Your Family
If too many bees disappear, a lot of food your family enjoys will get more expensive or even vanish. That's why building a garden to feed bees can help. Plus, just making a garden can do wonderful things for your family. Who's ready to get dirty? Make an appointment to start designing your Portland garden.