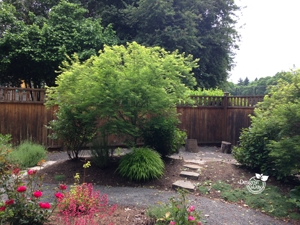 Irvington Backyard Landscape Design Creates Haven for Entertaining
My clients, Dan and Patti, moved to Portland to be close to family, especially their grandchildren. The previous owner of this sweet 1920 bungalow in the Irvington neighborhood had used the backyard primarily as a place to park a large RV. The shed was located to face the driveway and a concrete pad for parking the RV was the main focus of the backyard. My new clients like to live and entertain in their back yard.
They would be providing childcare for a handful of grand kids several days a week so room for kids to run and play was critical but knew they didn't want any lawn.
The collaborative style of a Landscape Design in a Day was very attractive to them. They were happy to measure and draft their existing property for me. Most clients do their own measuring. If the lot is sloped or especially difficult, we will do the measuring and drafting. We talked about their goals and possibilities of their site.  Their backyard abuts a large Portland park. They can watch movies that are played in the park from their backyard. They enjoy the sound of soccer games and kids playing. The park also provides two large shade trees near the property line that are well placed and provide cooling and privacy. As we talked we created a scope for the landscape design.
Want List
Integrate functional play space for the kids into a garden design
They didn't want the landscape to look like a play yard
Keep the large shed (more about the shed later)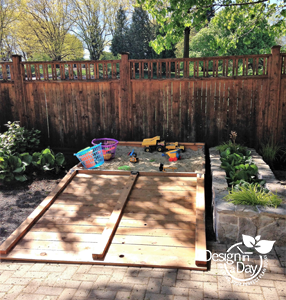 A large custom-built sandbox
(They had a construction design for a big sand box to incorporate into the design.)
Outdoor dining for large fourth of July family gatherings and summer birthdays
A lounging area for just the two of them with a heat source
Lots of flower power and foliage leaf color for Patty who loves the NW green foliage but misses the colorful exuberance of a sunny California flower garden
Designer Solutions: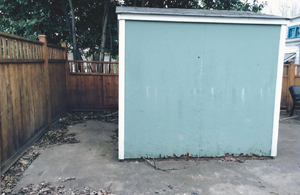 Existing Shed:  There was a large existing shed and when they said they wanted to keep it but were willing to relocate it, I breathed a sigh of relief. The sheds existing location was a roadblock to a successful use of the space. I'm happy to accommodate my clients requests unless the request conflicts with having what they want. It's my job to know when someone's good idea is going to be a problem so I would have gone into my best persuasive methods but happily I did not have to.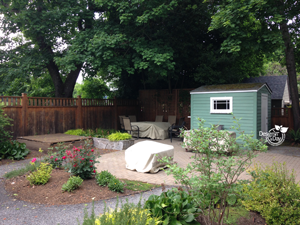 The outdoor dining room: The sheds new location made a perfect wall that defined the dining room and gave us a place to hang a buffet board that would serve food and beverages for both the lounging and dining room area. It helps with screening out an unwanted view.
I added further definition to the dining room with a stone planter that also separated the large (very cool) sandbox from the dining area.
We created a large curved berm which serves 3 functions:
1. The path around the berm is great for kids running around.
2. We created a kids play area behind the berm. Their grandparents added a sun sail to protect them from the hot sun and to make it feel even more like a fort or hidey hole. The corner area is big enough for many kid activities.
3. Berming up the soil makes it a perfect place to plant Japanese Maples. They can get verticillium wilt here in Portland but rarely do when planted on a berm.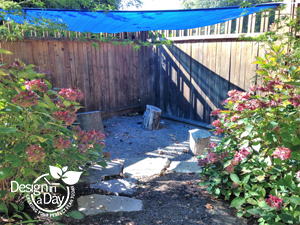 The spacious lounging area is conveniently located off the back door.
In addition to using colorful plants in the backyard, the south side of the backyard has an edibles area and flowers for cutting.
They hired my favorite landscape contractor Donna Burdick to install and Donna and I worked together on various issues for a fantastic installation experience.
Patti's Review
"We are thrilled with the designs she created for both our front and backyards, which were executed and installed by D & J Landscape Contractors (another highly recommended company).  The yards have been transformed into welcoming, beautiful spaces that we appreciate every day, whether we're looking at our new views out the windows, or enjoying dinner outside".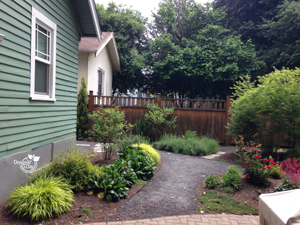 Hardscape Materials
We used mutual materials for the patio pavers and the paths were compacted 1/4 minus crushed rock with steel edging. The soil was prepped and irrigation was installed. The stone planter walls are mortar set basalt locally sourced.
Colorful Plants for Patti
Here are a few of the more colorful plants we used
Specialty hydrangeas from Joy Creek Nursery
Coreopsis 'Big Bang'
Fuschia magellinica – Hardy fuchsia 'Golden Gate' and 'Beacon Red' and 'Double Otto'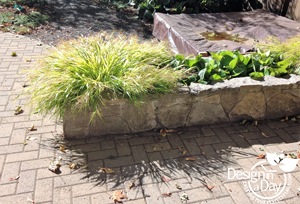 Heuchera – Coral Bell 'Purple Petticoat', 'Lime Marmalade', 'Havana', 'Paris' and 'Fire Chief' for hot foliage colors and flowers
Hakonechloa macra 'All Gold' Japanese Forest Grass- stone planter
Berginia C 'Baby Doll' – stone planter
Hosta 'Halcyon' (blue foliage)
A trio of classic Peony, 'Sarah Bernhardt', 'Red Charm' and 'Duchess de Nemours'
Dicentra 'Goldheart' – gold leafed bleeding heart
Choisya ternata 'Sundance'-gold leafed mexican orange shrub
If you're looking in the Portland area for a new landscape, contact me to see how we can work to design your property.