I have clients who only want to build their raised vegetable planters once.  Juniper wood is a great resource for gardeners who want their raised beds to last forever. Juniper wood can last 30 to 50 years in direct contact with moist soil!
Why Use Juniper?
Because Juniper is a hardwood, it is insect and rot resistant, and doesn't require any special chemical treatments, its longevity is unmatched, outlasting redwood and cedar beds by decades. Though indigenous, Juniper has become an invasive species throughout Central Oregon, threatening grassland habitat and destroying the ecosystem.
Pre-built Options
Restoration Juniper Project (video from OPB) is a company that builds lasts forever planter boxes out of Juniper wood.  It's a triple win because:
1.  Uses strong wood from the invasive juniper species and sales of Juniper wood helps restore threatened native habitat in Central Oregon.
2.  Profits support Growing Gardens, a local non-profit, that teaches children and families how to feed themselves by building gardens and providing support during the learning process.
3.  Wood can last 50 years so you only build once.
JuniPlanter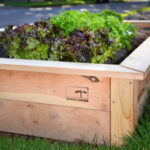 Growing Gardens recently unveiled a DIY planter box made from Juniper, JuniPlanter. In support of the Restoration Juniper Project, they've designed a kit that can be built in under an hour by DIY-ers. These boxes are not inexpensive, but they are made to last. The JuniPlanter has more than one model, but as an example, one of the boxes is $450.
This is a better investment for a person who knows they are going to be gardening for a long time, rather than someone just starting out.
Build Your Own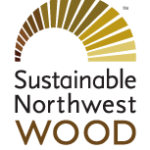 Finding the Juniper wood and building your own would be another option.  I talked with Ryan of Sustainable Northwest Wood (SNW) in SE Portland, Oregon. Here are two options Ryan suggested for building an 18″ high 4′ x 8′ raised bed:
1.  Make your box 18" high using three 2" x 6" (would take 9 boards).  Each board at current prices would be $10.00 each so it would cost you $102.75 for the juniper wood for one planter at 4' wide by 8' long. They have a corner piece you buy for $12.75 that you can cut to create your corners so you only need one.
2. This option cost more when using 6" x 6" wood.  You will need 9 boards at $28.00 each. The cost for one juniper wood planter will be $252. You won't need a corner piece because the 6 x 6 is strong enough for corners and the whole planter is heftier and better for sitting on.
Ryan's Construction Tips:
Pre-drill all holes.
Use stainless steel lag bolts to use for fasteners.
Designing three Landscape Design in a Days per week, raised planter boxes go in every one of my designs.  Everyone wants them! Materials we prefer to use include:
Corrugated sheet metal with wood supports
Livestock water troughs
Stacked rock
Wood
Recycled concrete rubble
Schedule your Landscape Design in a Day consultation today with Carol.