I love to work with stone. Placing boulders in a hillside rockery, selecting patio flagstone for a patio, or creating a pathway that weaves through the lawn……..stone anchors the design and brings nature to our doorstep.
Flagstone versus stepping stone=No contest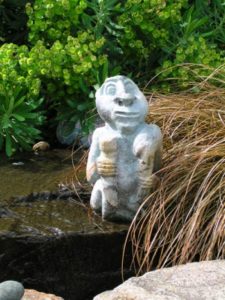 Use flagstone which is by definition 2″ thick by at least 12″ x 12″. In patios, I prefer a mix of flagstone at 14″ to even 24″ across. Why? It makes better visual impact, and if set into a proper crushed rock base, it won't move under your feet. Since it is thicker, it's less prone to crack. Stepping stone by definition are smaller and often end up being precarious. The only thing worse than poorly set, dinky stepping stone is to use pea gravel instead of crushed rock for your base. The pea gravel looks pretty but is not remotely stable, resulting in a mess. It can be an ankle turner as well. No pea gravel!
Select flagstone for how it will look weathered
When selecting flagstone, keep in mind that over time it will look more weathered than what you see initially at the rock yard. All stone gets a coat of flora and fauna on it, faster in the shade than sun.
Stone with red or orange areas in it indicates iron. Some types of stone with iron can come off on your shoes. Those colors are wonderful especially for color in the winter. What to do? Ask a professional like Lew or Sherrie at Smith Rock about what types will run.
Low Stone for an Entry Garden
Try something different? Instead of going vertical with your rock, go horizontal!! If we all do this instead of the typical vertical style, 10 years from now I will be saying, let's try something different and go vertical! It takes longer to wear out an idea in the landscape than interior decor. The Hilton water feature idea would normally have been brought in using a millstone from China. Our final selection was a chunk of local basalt drilled at Smith Rock, a much better environmental choice than shipping stone using up so much precious fuel from so far away.