Tips for Winter Care of Drought Tolerant & Other Plants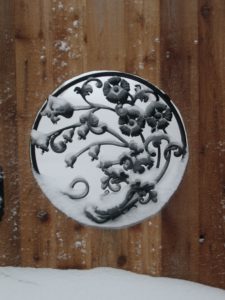 I recently was a guest on a radio talk show, Real Estate Today, with Gloria Hahn of the Hahn Group.  Once again it was fun, I was only a little nervous and it went well.
We talked about protecting plants from winter weather damage.  There are many kinds of damage that occur due to winter weather.  Here are a few tips to protect your plants.
Prevent Root Rot
Be vigilant about clogged downspouts….many a Daphne has died in May because of the root rot that happened from sheets of water coming over the gutters in winter.  Don't let your downspouts and gutters clog up. I never plant a Daphne or a shrub that is especially prone to root rot near the downspout. No one means to let them clog up but if you do not have a basement you might think you can let it wait.
Keep Bark Dust off the Centers of Plants
Applying mulch or bark dust to your planting beds in early winter is a great idea.  Mulch benefits your soil and plants and helps protects roots from cold temperatures. Bark dust helps prevent weeds.  If you have it blown in, be aware you must go out and remove the material off the crown of your plants.  I can count the number of times bark dust was applied correctly by a blow in company on one hand. They don't pay attention to plants and especially perennials.  When the plants crown is buried it will be kept wet all winter and can die from crown rot.
It's up to you to save your plants.  You must remove the excess product off the plants crown.  I often use a whisk broom but fingers work nicely .  I don't apply mulch or bark dust over my fallen leaves.  I rake first and then apply 2 inches of product on my planting beds.
Speaking of leaves; these days I find places in my property to pile a lot of my leaves so butterflies and other beneficial insects eggs (on the leaves) can hatch in the spring and benefit my landscape and local environment.
Don't Prune Plants Unless They Are Dormant
Late fall or winter is not a safe time to prune most evergreen shrubs and other plants that don't go dormant in the winter.  This can bring a plant out of dormancy or prevent it from going dormant.  This can make it vulnerable to damage or death.  When cold temps hit, if you are a plant,  it's a good thing to be dormant and miss it all.  There are some plants that are extremely cold tolerant but many are not. Plants can't go to Arizona for the winter.
Professionals like to prune deciduous trees and shrubs like Japanese maples (not evergreen) in December to mid January here in the Pacific Northwest.  This plant is dormant at this time, has not started to grow buds and will not "wake up" in response to pruning.  Professionals know what plants are exceptions but most homeowners do not.
Do spread a 2" layer of mulch or compost around your plants once your winter landscape is cleaned up.  You don't want to put the compost over a bunch of decaying leaves. Mulch helps protect plant roots from extreme cold.  If you have trees whose leaves don't drop until December, you need to wait 'til these leaves have dropped.
Drought Tolerant Plants Are Susceptible to Root Rot
Most of my clients these days ask for a low water landscape design.  I mention this with regard to winter plant protection because these plants must have good drainage in the winter.  The crown or stems at the soil level are very prone to rot.  I like to mulch the crowns with minus ten crushed rock.  I place the tiny crushed rock around the plant, not over the top of the plant.  This helps roll winter water away from the plant's crown.  It is critical to keep bark dust or mulch away from the crowns of these perennials and shrubs. Plants like Manzanita, Yucca, Phormium, Callistemon, even hens and chicks or sedums will benefit from crushed rock applied around the crown.   If you have mulch or bark dust blown in, this can have disastrous consequences for drought tolerant plants.  It is critical to keep bark dust or mulch away from the crowns of these root rot sensitive plants.
For more information on landscape design for your garden, contact me to make an appointment.