Garden Remodel in a Rose City Park's Craftsman Home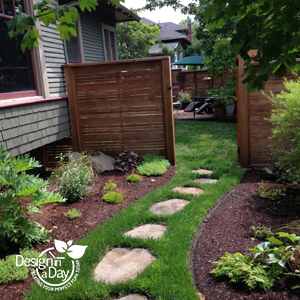 Kay hired me to design her garden remodel in the Rose City Park Neighborhood after she had a seismic upgrade done to the foundation of her old Portland craftsman home. The construction process destroyed much of her existing garden.
She decided this was an opportunity to make her garden the best garden of her life.
Designers site assessment
The house sits on a corner lot and the primary garden space is in the side yard. The patio and sitting area worked beautifully as is; patio tucked into a corner with close access to the back porch and kitchen. There were wonderful plants to work with but the proportions of the fenced side yard created a bowling alley feel. This was the opportunity to make a significant change.
Her side yard was a fenced in area 50 feet long and 15 feet wide with the patio on one end and a narrow strip of lawn in the middle.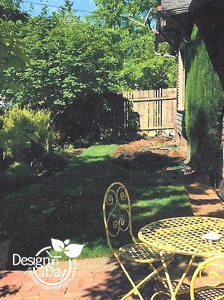 Moving her fence and gate and incorporating some of the space into the front yard to create a more intimate space fixed 90% of the problems. Now her private patio garden was 15′ wide by 25' long instead of 50' long.
This was a huge improvement for experiencing the garden from the patio. It feels good to walk through the garden, pause and enjoy the journey to the patio.
We widened the planting area opposite her large dining room windows so we could layer multi season plantings for a year-round view and more drama.
Kay's existing plants
We did an edit of her existing plantings, hanging the pink ribbon of death on a few plants and relocating others. Experimenting with plant material is what being a gardener is all about. Plantings get overgrown and crowded very easily when you're having fun. Kay is a gardener, loves color and a cottage style to go with her craftsman era home.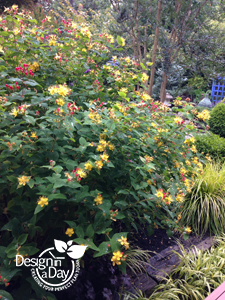 Here are some of the fun plants Kay had in her garden that we kept. Several collector  varieties of Hellebore, Euphorbia x m. 'Tiny Tim', Actaea simplex 'Carbonella' (purple leafed snakeroot), Hypericum x 'Citrinne', the "new" St John's wort shrubs that are so wonderful for flower arranging,  Tricyrtis, toad lily, an exquisite fall flowering lily with multiple flowers on each stem, Eryngium, a variety of Sea Holly with its wonderful fall silver and blue toned flowers, many unusual varieties of hosta, a multi stem mature vine maple and various sword fern.
Kay's New Plants
Here's a list of some plants we added:  Maidenhair ferns, saxifrage ground cover, and native bleeding heart were planted en masse to help blend different planting areas together to give the garden a cohesive look.  Chinese camellia "Yuletide' was selected for its cherry red winter flowers, Daphne 'Summer Ice' for fragrance in summer and chartreuse Japanese forest grass, Coral bell 'Lime Marmalade', Hosta 'Blue Mouse Ears' were added for color contrasts.  Leptinella verdigris, a brass buttons ground cover was added to existing flagstone area to cover bare soil and since this plant is a very strong spreader, (warning), use appropriately.  The hot pink flowered Salvia 'UC Pink', which flowers all summer and into late fall was a replacement. Kay had lost one in the seismic construction and we found the perfect spot for a new one.
Proportions Matter
Here's what we did to improve the proportions of her garden room. We changed the straight lawn shape from a line to a curve. We removed 25 feet of fence and set the entry gate closer to the patio. Losing the long narrow shape completely changed from a bowling alley feel to an intimate and integrated garden experience. As much as we all love plants, plants alone cannot give us the impact that changing the space does.
We used my  collaborative Landscape Design in a Day process to create the re-design together.  Kay hired help to move the bigger plants but did most of the garden plantings herself.  She used my plant broker to get some of her plants.  The attractive fence was designed and built by Creative Fences and Decks.
Let's remodel your garden together.  Contact me, https://landscape-design-in-a-day.com/contact/