Unusual Flowers to Attract Hummingbirds
Today I want to share "Hummer" plants with hot colors for summer that are unique.  I will also list a few very colorful plants that  feed the overwintering hummingbirds in winter.

Hardy Fuchsia may be considered common for feeding hummingbirds 8 months out of the year.  Here are 3 varieties that are available locally (Portland, Oregon) that are a little different.  This type of fuchsia is a perennial and not anything like the fuchsia baskets that live in shady patios.  These fuchsias need sun and will come back year after year with simple care.
'Golden Gate' Hardy Fuchsia has hot gold leaves and shocking red pink flowers.  It is much smaller than the typically 'Aurea' and is an upright shrub instead of a wide vase shape.  It will fit into a smaller garden much better than 'Aurea' which can grow 4′ across easily.  We have a local source, a wholesale grower, Jockey Hill, who sells retail at Scappoose Saturday market.
Fuchsia Magellnica 'Isis' – this is great against a wall and while the leaf and flower are tiny, it can become a tall column (8′ – 10′) or it can be cut back hard every year and kept in the 4' range.  Hundreds of flowers will interest many varieties of the larger bees as well as hummingbirds.
'President'  Hardy Fuchsia.  It has a dark maroon leaf which is very unusual. This can be hard to find.  We have a local wholesale grower, Jockey Hill, who sells retail at Scappoose Saturday market.  It grows into a wider than tall shrub with purple and red flowers.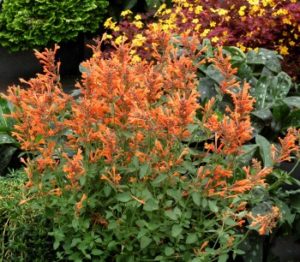 Agastache, also called Hummingbird Mint, are hot plants for long flowering summer color and for hummingbirds.  My old favorite variety is called 'Apricot Sunrise' and is an Agastache aurantica.  There are many new varieties of Agastache that I am very excited about.  'Summer Fiesta',  'Summer Sunset', 'Kudos Manderin', and 'Kudos Coral' are newer varieties that are more compact.  All of these Agastache are fragrant and smell strongly like mint or apple mint depending on the variety.
If you provide good drainage (think about planting on a low mound of soil), and don't over water or fertilize …… it can live for years.  I often mulch around these plants with a cup of tiny crushed rock or pumice and I also tend to plant Hummingbird Mint in a raised planting.  Even 4" above the rest of the soil will improve drainage.
Agastache 'Summer Glow'  did very well in a client's garden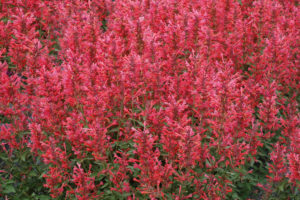 until a local rabbit ate them to the ground one too many times.  I love this exact variety, 'Summer Glow', because even after the glowing creamy yellow flowers are gone, the mulberry calyeces (under each tubular flower) stay on the plant until frost.  This color is soft but truly does glow especially in the evening.  This variety, like the hummingbird magnets above, results in 3 months of color in the garden.  It's not red so isn't as attractive to Hummers.
Here are three great hummingbird attractors for winter:
Hybrid 'Springs Promise' is a new vivid rose red winter flowering Chinese Camellia.
Correa 'Dusky Rose' Australian Fuchsia is available locally at Cistus Nursery on Sauvie Island.
Mahonia x media 'Arthur Menzies'   Think small tree so 15' by 8' wide.  The fragrance alone is amazing.  It is a coarse but attractive blue green leaf, the flower is a soft but strong yellow and is beloved by the Anna Hummingbirds.  At times you can find it at Portland Nursery, Cistus Design Nursery or Xera Plants, Inc.
You can also order a small plant from Forest Farms
For typical plants that attract hummingbirds go to my video for About.com. http://landscaping.about.com/video/Best-Flowers-to-Attract-Hummingbirds.htm