"My garden adventures with Carol, Design in a Day, began in 2010.  Carol took my "mismatched" garden and pulled it together by incorporating a variety of plants which added interesting leaf shapes, texture, and color.  With the addition of stone paths and walls, art pieces, and a deck with planter boxes, she created a garden that blends continuity, interest, and beauty.

Since a garden is an ever-changing palate, I have continued to work with Carol as my garden coach so my garden space will continue to thrive.

Carol is professional, knowledgeable, and talented.  She's a good listener and will collaborate with a team of experienced and creative contractors as well as resources for plants.  With Carol's style of landscape design one can select from a wide menu of options – from a garden design only where the client does the work, to a design and consultation, up to supervision of the project."
When I work with an established garden, I strive to bring an experienced eye that can see exciting new possibilities with the removal of plants and features that no longer work (or missed by a mile simply because no one knew what could be).  It's hard for clients to do this on their own.  For many years some plants were wonderful and were loved.  I have been hired to help my clients have their best garden. Telling them a plant  is great just because they love it is not earning my pay.  I try to do this gently when it needs to be done.
We (Lois and I) made so many amazing changes in our design process but I will speak of a few.  This garden already had a mature dogwood tree.  Its location was perfect but it had been damaged by the pruning of a well intentioned "mow, blow and go" gardener.  It took 3 years of light but precise pruning to correct damage and now it is the long term focal point of the back garden.
The new deck feels more like an outdoor living room and is an extension of the great room. What had been a dark interior room now feels significantly bigger and airy.  We used planters instead of railing and they bring the garden (including year round flowering plantings) up into the view from inside.  Before our design, the garden was obscured and felt cut off from the house, now it feels like part of the great room.  We created a kitchen window view with plantings that look good year round and bring the Anna hummingbirds into close view in winter.  This had previously been a forgotten area and the client had no expectations for it.  To her it was just a side yard.  Now it is one of her favorite views.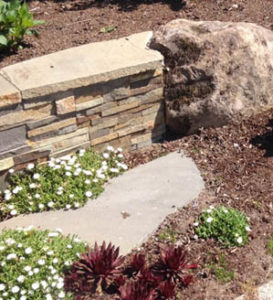 Our adventures do continue.  Here are photos of our latest improvement, a retaining wall and plantings that dresses her driveway beautifully.