Trees for Portland Residential Landscape Design in Woodstock neighborhood
One September afternoon while in Portland's Woodstock neighborhood I  drove by a former client's home. My clients had moved, and I was curious to see how the design (installed a dozen years ago) had held up. Once clients move I rarely have continuance with the landscape.  
This drive by is a mixed bag.
Shade Tree for the backyard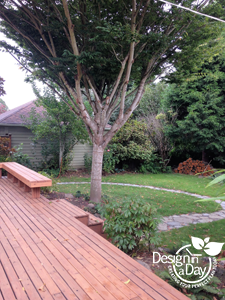 The shade tree for the back yard is absolutely perfect, and exactly what I had envisioned. This is the part of drive bys I like the best. I used a Japanese Elm – Zelkova serrata variety called 'Wireless' because it's one of the few shade trees that is compatible with lawn and 'Wireless' is the perfect shape and size to provide shade for city landscapes.
Their leaves are smaller than most shade trees and allow dapples of sunlight through the canopy to the lawn while filtering out the heat. The exaggerated vase shape of the tree also allows light to come in under the tree in the morning and late afternoon.  This tree provides shade to the south facing deck and the back of the house. It will get over 30' wide at the top. It matures at 25' tall so it is a tree that will be wider than it is tall.
If you are a discerning shade aficionado you will say hmmm…… the shade tree doesn't have low branches so how can you sit on the back deck and have dinner without being blinded by the south sun? We kept a mature mixed hedge at the back of the property and it will block those dinner hour sun rays. The shade tree will filter the hottest sun of the day.
Privacy Screen Planting for side yard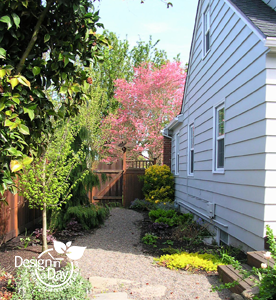 Less successful is the privacy screen planting for the side yard.  I used a narrow variety of Hornbeam (Carpinus betulus 'Franz Fontaine') to block the view of the neighbor's driveway and their vehicles and also to create an attractive view from the bedroom
windows. For the design to be functional, the Hornbeam would need to be pruned once or twice a year to become a 10' narrow wall of thick leaves. The maintenance did not happen since my clients moved.  Now the side yard privacy screen is wildly out of scale and the charm is gone.
Make an appointment to start your Portland residential landscaping with designer Carol.