New University Park Landscape Design Clients Need Shade
In my first conversation with Jay, the words he used to describe what he wanted for his back yard were oasis, outdoor sanctuary, shady and cool, privacy, colorful lush plantings, and low maintenance. Then he laughed and asked me if that was even possible. His wife was the gardener and she had passed away several years ago. He was learning and keeping up but it wasn't his favorite thing like it was hers. He and his kiddos wanted to finish making the back yard an oasis for their family but to me it also seemed like the back yard re-design would be an element of her family connecting with her because she loved plants and loved being outdoors.
Cool Outdoor Living in University Park
Jay and the kids love the University Park neighborhood and want to live here for many years.   They want to keep some of their moms plants in the new garden; especially hardy fuchsia and hydrangeas which are her favorites.  They want plants that will feed pollinators and provide for birds. They enjoy the magic of hummingbird visits.  These kids will grow up living outdoors in this yard, have encounters with nature and times spent with friends and family that they will remember all their lives. I love that part of my job.
Landscape Assets and Issues to Solve
We have two significant assets to help us toward our goals of shade, oasis and outdoor sanctuary. A covered patio area and a neighbors big tree. The house roof extends to cover a patio and although it is pretty tight for space, they can use it for eating and cooking outside, play area and for making crafts.  However, once the sun crosses to the west the afternoon sun comes in under the cover and bakes everything and everyone.
Maybe there is a break in the earth's crust because I swear that is the hottest little Portland summer yard I've ever been in.  The neighbor to the NW has a large cherry tree whose branches reach across nearly to the roof line.  It only provides shade to the north corner of the narrow yard.  Happily the neighbor has a long term commitment to the tree so we can expect it will continue to provide some shade to our new outdoor living patio and firepit area on the north end.
Solving the Too Small Covered Patio
So the covered dining area is too small for a decent sized table and room it takes to walk through this area to the back door or side yard.  At a previous clients design we expanded the roof line to gain more covered area. It was a fantastic solution for them but was a major expense.  Jay and I liked the idea of adding to the covered area's roof but this was expensive and would tip the balance away from a garden toward a large covered outdoor area with a few plants.  Not an oasis.  So we focused on expanding the patio surface space.
Solving for Long and Narrow Back Yard
Often I divide and conquer by creating multiple outdoor rooms instead of one long narrow space. Lets see how that works with this back yard.
In the shady north corner we create a cozy sitting and lounging patio of crushed rock and flagstone patio area. We will add very comfy furniture to relax into. The focal point of this room is a modern Stahl gas firepit with a steel art screen as a backdrop. The screen made from recycled steel will visually soften the house corner. The art screen is designed to be attractive from both the existing center garden room and the new shade corner sitting area.
The center garden room (the covered patio)  becomes the heart of the new garden.   Here we added 40 square feet to the existing patio surface to make room for the large table and chairs. This allows us space for additional diners. Jay and I preferred to use natural shaped flagstone (instead of modern square pavers) because we wanted to visually soften the existing concrete patio. The natural lines of the flagstone help diminish the power of the straight lines of the concrete, house and fence.
The Water Feature Has a Modern but Neutral Style
Our focal point for the center garden is the new water feature fountain.  It is placed to enjoy from the dining table area and to see year round from inside the house.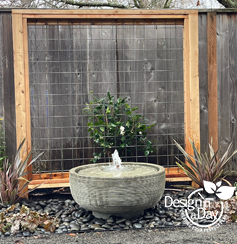 The fountain is backed by an evergreen winter flowering espaliered camellia and this is what we will see instead of just fence. This plant will look good year round and flower in winter. The espaliered form means it will be 8" deep and about 6' wide and tall. It fits nicely with our narrow planting bed. The water feature is centered on this planting.
Making this center room dramatic gives it more power and so diminishes the long narrow aspect of the back yard.
Stand Against the Sun-Creating Afternoon Shade
The west end of the back yard is where we will make our stand against the baking afternoon sun. It will take some time but we have a perfect long term shade tree for this small back yard. The photos with the kids under the tree shows the promise of significant afternoon shade right where we need it.
We added boulders to create a raised bed for our shade tree. First it makes the tree taller by 18″ so more shade under the tree sooner, it makes fun run around room for Haley who likes to play outside and there is room for imagining her own world or even setting up fairy gardens if she wants. Some of the boulders were selected so they could be sitters.
Placing the tree in a raised bed is also a way to provide better drainage so the tree is healthier and typically will therefore grow faster.
Contractor and Designer and Client
I introduced Jay to Donna Burdick of D & J Landscape Contractors for the install. Typically we talk over the design a few times and then meet on site mid way through the installation to tweak the design which we did for this landscape design. Donna found the cool steel art screen and did the construction design of the art screen.  She also hand selected the boulders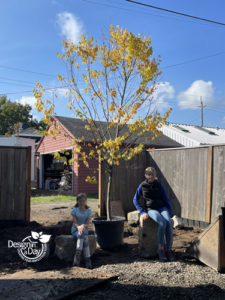 and arranged the boulder composition. The client, Donna and I met on site (outside of course-Covid days) to work through a few changes and to celebrate the progress on the new landscape together.
Hardscape Materials List 
Flagstone-Dry laid variegated lavender bluestone is tight set (very close together) to extend the patio. An additional flagstone grouping is added to the north shade garden to tie the rooms together.
The raised bed has a blend of two rock materials.  The boulders were handpicked and they are called Columbia River Boulders and came from Portland Rock.  We also used Silver Springs Easy Stack Wall Rock for the horizontal rock in the raised bed.
The Girona water fountain is from Terra Casa , (a garden furnishings store near Clackamas Oregon) and is made by Campania International. It is a modern styled self contained fountain and does not need an additional reservoir. I especially like the neutral style which can go modern or meditative, and fit into a naturalistic native plants garden.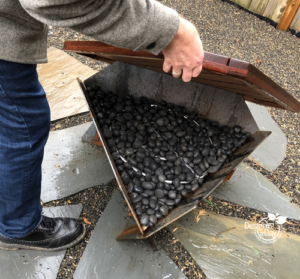 Steel firepit is from Portland's own Stahl Firepit LLC and was plumbed for natural gas. The wood cover makes for a useful surface when not being used for warmth.
The steel art screen is made with Borcon Decorative Panels (60% recycled steel) and was designed and built by D & J Landscape Contractors.
Plants for Outdoor Living Backyard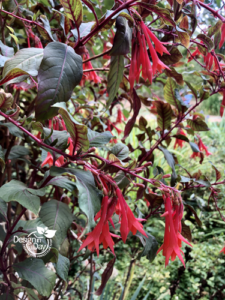 We were able to transplant several of his wife's hardy fuchsias, hydrangeas and a few blueberry plants into the final design. Here are some new plants we used: native plants were Huckleberry, Sword Fern, Maidenhair fern, and Coneflower.
Pollinator plants that were not native included Crocosmia, Rosemary, hardy fuchsia, winter flowering heather, Solomon's Seal, Black-eyed Susan, and Salvia. Most of these plants are also very attractive to hummingbirds. We added an evergreen Pineapple Guava shrub and more berry plants to the front yard.
The Shade Tree Selection
After lots of deliberation, we settled on a City Sprite semi dwarf elm tree. Zelkova serrata 'City Sprite'. I wanted a cork oak but they were only available as 6" tall plants and City Sprite was a better fit long term.  Here is another small city garden where we used this same variety of elm tree.
Donna Burdick selected our tree from Treephoria, a plant nursery out in Boring Oregon.  The tree was already limbed up and so was perfect since we needed to be able to walk or sit or play directly under the tree. This landscape is too small to have low branches eating up usable square footage.
Client Testimonial
"My project included drought resistant plants, native plants, edible plants and low maintenance landscaping. The Landscape Design in a Day Kit was excellent and I was very satisfied with my overall experience.
Carol's process worked really well for me. I appreciated the thorough definition of and thoughtful review of requirements before the final drawings were produced. I also appreciated Carol's engagement when the project was in flight, her visit mid-way produced beneficial adjustments. And, her referrals for people to work with (contractor, gardener) were outstanding. Thanks Carol! I never would have created this backyard oasis on my own."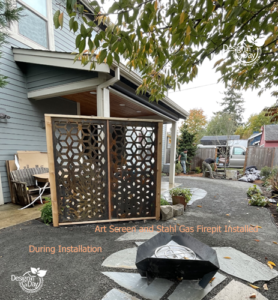 Contact us 
Are you seeking respite and shade in your backyard from summer heat?  Do you want an expert designer to give you a cool oasis in the city?  Contact us, we would love to make it so.