Hardscape Solutions for Portland Back Yards With A Modern Twist
We enjoy visiting our past back yard designs and today we are in NE and SE Portland.  We will see installed back yard hardscape landscape designs and modern gardens in Portland neighborhoods Grant Park, South Tabor, Richmond, Reed and Eastmoreland.
Eastmoreland Neighborhood Outdoor Living Patio
We start near the Sellwood Bridge to see a very small back yard 'Remodel' design.  With a landscape that already has mature trees and fairly good privacy our job is to keep what works, remove what doesn't and create the missing elements.  We (designer: Alana Chau), added a perfect fit lounging patio to the existing concrete area, a water feature, and fresh new plantings.  Our client Eva Barnes loves the new design.  She and David had so much fun with friends and family installing most of the design including an electrician friend who came and installed the GIF (ground fault interrupter) for the water feature.  Eva says about her new backyard, 'It's just perfect'.
Design Incorporates New ADU/Studio for a Family Friendly Landscape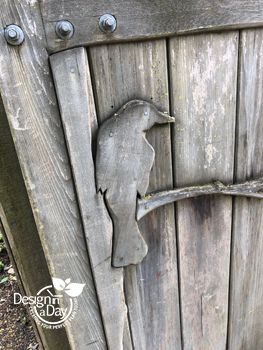 An important factor for this Reed neighborhood home was working the new Adu/studio into the overall back yard landscape design.  An important decision was whether to keep the existing fence and gate that separated the small intimate family covered dining area from the larger back yard.  After much deliberations, we kept the gate and fencing because it made more usable space for the covered dining area, created a separate (and sunny) sit spot near the studio door and kept the existing fence and gate which has whimsical and delightful carvings of crows that are incorporated into the wood.  These corvine illustrations are both carvings and wood work.  They are all through the fencing and there are illustrations also in the brick patio from the previous owner.  It felt good to honor those.
Privacy for Tiny Patio Garden in Creston Kenilworth Neighborhood
This family needed a planting plan re-do for the front, back and side yard and a designer who could understand the balance of privacy needs and community connection for the sidewalk patio. Taller plants in the new planter create privacy from eye contact with passersby without cutting folks off from community. The large planter with wide wall cap doubles as a wonderful sit spot. It's a very friendly neighborhood.  The new hardscape path for the side yard is such an asset to the patio views, sets the stage for dramatic foliage plants and also makes a way to the garbage cans with dry feet during the winter.
Hosford Abernathy Neighborhood Back Yard Privacy Design
See our previous blog about privacy.  It's still a young garden so we are waiting for the privacy plants to get going growing on the new screen. (Japanese Climbing Hydrangea) and other colorful maturing plantings are filling in and starting to diminish the power of the purple violet house nicely. The landscape also needed a lot of careful attention to water from downspouts and had other drainage issues.  These issues were solved collaboratively with the landscape contractor, D & J Landscape Contractors, Donna Burdick and Landscape Design in a Day designer Alana Chau.
There are 2 rain gardens, a small one in the back yard and a larger more dramatic rain garden in the front.  Our client wanted to protect the river by keeping his drain water on site and returning it to groundwater, a high priority for our client.  He also planted a native Oregon White Oak.
Richmond Neighborhood Back Yard Has Uber Modern Back Yard Landscape Design
We started our blog with a photo of this dramatic minimalist modern landscape design.  The best news is that the clients use this covered outdoor living area patio year-round.  They live out here whenever they can. There is no better complement for a designer.  In the winter they use a standing heater as well as a ceiling heater.  For summer entertaining they will put the standing heater away to make more room for guests. Meadow style grasses and other dramatic plants give the overall design a modern minimalist style.  There is even a Tetrapanax papifera 'Steroidal Giant' in the back corner which will add a tropical flair (with very large leaves) once it matures.  We will have a blog that shows photos and more details on this fun garden soon.
South Tabor Home Back Yard Landscape Design
This home is getting the full treatment being remodeled inside and out to include adding an ADU now that the back yard transformation is well on its way.  Alana's landscape design is planned around the future ADU.
Alana collaborated with our client to create a new modern landscape style patio area with plantings.  She kept it low maintenance and low water.  He loves the new plantings and especially the colorful carpet of hens and chicks.  The back yard was previously a bit of wasteland when the house was purchased in 2019.
Contact Us
We love driving around and seeing our clients in their new back yards.  Contact us for a collaborative landscape design process that takes your needs, likes and dislikes into account while we lead the way to a perfect fit back yard.