Wire Vine – Friend or Foe?
Do you have a structure you need to cover and don't mind occasional pruning?
Do you like plants with interesting color, texture and tiny leaves?  I have your plant.  Wire vine – Muehlenbeckia
Here are 4 ways to use wire vine.
Wire vine on an arbor and gate.
This entry gate has a definite hobbit landscape feel to it.  The wire vine growing on this rustic gate and arch creates a very unique look and is very easy care. All they need to do is trim it. It is mindless easy pruning and if it gets away from you it's easily remedied by whacking it back to about 6" tall. If you don't like trimming plants on a regular basis, this is not your plant. (Muehlenbeckia Complexa in photo)
Wire vine cascading down a wall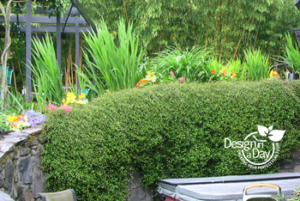 Here is a photo showing a hot tub surrounded by a rock wall. It's just a rubble style rock wall so no one painstakingly picked which rock to go where for the art form. It's good looking with wire vine planted at the top of the wall.  The results are a cascading curtain of delicate looking foliage. The burgundy black stems add color to the winter view from the hot tub and softens the view of the wall. Another benefit, they don't have to pull weeds out of the rock crevices because the wire vine does not share well with other plants. No weeding sounds like low maintenance to me. (Muehlenbeckia axillaris 'Nana' in photo)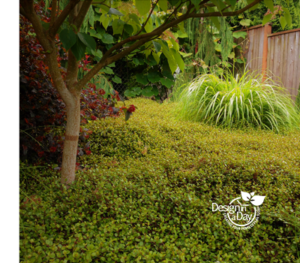 Wire vine as ground cover is only for hobby gardeners
Only use wire vine as ground cover if you are happiest out playing (working) in your garden.  Wire vine will try to grow right over the other plants and climb up the trunk of this lovely June Snow Dogwood (pictured). This photo of Muehlenbeckia axillaris is from a designer pals personal landscape.
Two kinds of wire vine
There are two kinds of wire vine and I find they get mixed up often at nurseries much to my annoyance. One is evergreen with slightly larger leaves  –  Muehlenbeckia Complexa. It's also called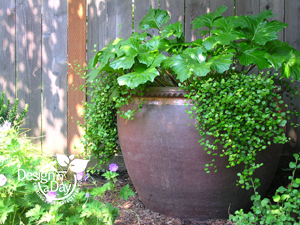 Muehlenbeckia complexa 'Big Leaf'. This plant is less cold hardy than the smaller leafed type so could die in a bad winter but I've had it last for years in some client's gardens.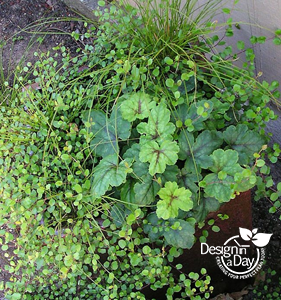 Muehlenbeckia axillaris 'Nana' has the smallest leaf but is not evergreen. In late fall the leaves turn a bronze orange (which is attractive) and fall. This wire vine will become drought tolerant and tolerates freezing temperatures best.
Sun or light shade
I grow wire vine in a variety of sun situations. They don't thrive in deep shade.  I plant them in full morning sun or a mix of am and pm sun. I've placed it in full west facing afternoon sun where it gets dappled shade from trees or shrubs by 3 pm.
I would not grow it on my house but a garden shed is fair game.
Trim often or cut back by 4/5th's at least once a year.  How you trim it depends on what you are using it for. If I grew it on a gate, I'd treat the stems and leaves as if they were fur and just shear it back to 1″or 2" thick.  If it's in a pot I'd cut all the stems back to 2″ at least once a year.