Back Yard Office Shed And Dream Landscape – Have Both!
Recently Stacy in NE Portland worked with Landscape Design in a Day  to add a 12′ x 10′ Tough Shed for her back yard home office studio. Stacy wanted her dream landscape with lots of outdoor entertaining space and a back yard home office for her very small back yard in NE Portland.
She had already ordered a 12′ x 10′ shed, (Tough Shed) to use as her office.  Our job was to figure out the best placement to be easily accessible for her 'daily commute' to work and also fit perfectly into her dream back yard.
Think Like a Designer – What Do You Need to Know to Put an Office or Studio in Your Portland Back Yard?
First we looked at the City of Portland's rules and regulations and determined we could install the shed (under 200 square feet) without a zoning or building permit.
 Here's a link to the page I often use.  A homeowner in the city of Portland can also schedule a 15 minute consultation with a zoning expert to be sure their area is eligible to build a shed without a zoning permit or building permit.  My advice is to be sure your plans are not a problem for your neighbor because if they complain to the city it can greatly complicate matters even if you are following the rules. 
Determine Where to Put the Office
I considered Stacy's outdoor living needs and ideas and agreed our best place was in the NE corner of her back yard.  Part of making that decision was based on the location of other aspects of her dream back yard to include a magnificent and huge Japanese maple.  See Part 1 Blog about Stacy's patio and back porch design. I referred Stacy to a certified arborist for advice on the best installation technique for the foundation of the office and of course paths.
Placing an office in the back yard of  such a small city lot was more of a process of elimination.  In a larger property we have more possibilities to explore. We needed a path across from the back porch to the driveway and garage, and also from that same spot a path to the patio and to the office door.    Another influence was creating a small lawn area for  her two dogs.  In the end we had to put the back wall of the office right on the driveway line in order to make all the spaces work together.
Transportation – The Path to the Outdoor Office
Obvious paths such as from the driveway and parking area into the house are always first.  In this design we let go of having a person door out the side of the garage because it would spoil the functional patio space.
Designers think about how both people and pets come and go from the house and of course making daily access to the office convenient is a big art of this initial study.
Doors are very important – Where to put the door to the office?
I tried two locations for the door.  One had the primary access coming from the back porch and to a door facing into the back yard which limited planting space but was the most obvious location.
Or we could access the office from the public sidewalk and go out the front door  of the house for the daily work commute.  This had the advantage of plantings across the back of the studio making more of a garden plantings view from the patio and the house. But it felt too public to Stacy and she already knew she wanted to come and go from the back porch which is the part of the house she spends the most time in.  (See concept 2).
The solution that made all the transportation needs work was to set pavers into the grass for the primary path to the home office and the driveway.   
Protect Your Shade Trees when installing a Back Yard Home Office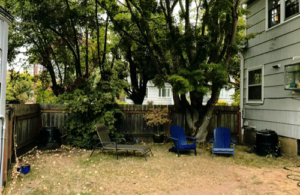 Arborist to Advise on Best Installation Technique
I referred her to Issac at Honl Tree Care for an arborist site visit .  He helped her by showing her how to work with the installation technique for the foundation of the office to protect the tree roots and also gave her general care instructions to include how much and when to water her very special shade tree.  
After seven concept drawings, Stacy and I arrived at our preferred landscape layout with a patio sized and shaped to fit both lounging and dining, some grass for the dogs with a useful flagstone path through it and the back yard home office.   With the right placement and professional advice, Stacy was able to include her new office shed and create her dream back yard.
Client Testimonial
"Carol did a fantastic job designing our very difficult back yard space and worked in just about all our asks.  She was easy to work with, and I greatly enjoyed the format and how she got to know my preferences for this or that.  I'll be asking her to do a plan for my front yard once the back is done!"
Contact Us
If you have a tricky outdoor living design project in your Portland area back yard and would like to discuss it with us, please contact us for a phone appointment.  We look forward to hearing from you!