Updated Hardscape With Existing Native Oregon Plants
Clients Wish List
This client is a gardener extraordinaire. She had several beloved existing plants to work into the design, and a list of favorite plants.  The planting plan would be a collaborative design effort that would ensure her garden was colorful and encouraged hummingbirds and pollinators to visit.  The planting plan would be focused on summer and fall with full season interest plants situated for views from important windows.  Everything else would be for enjoying while outdoors.  She wanted her new garden to be a place that she could live in all summer and fall.
Her current backyard was not a friendly place to be in although it had beautiful plantings.  The existing sitting area was a narrow and awkward small deck.  Happily, it was old and rotting, so designing a comfortable sitting area right off the kitchen door didn't mean removing a deck that still had years of life in it. She also wanted a bit more privacy on that upper deck.
She wanted a patio that could be multi-purpose –  seating or BBQ station or lounging with rooms for colorful plants in pots like Cuphea (Firecracker Plant).  Cuphea attracts hummingbirds like crazy in the summer and she always has a pot or two to enjoy.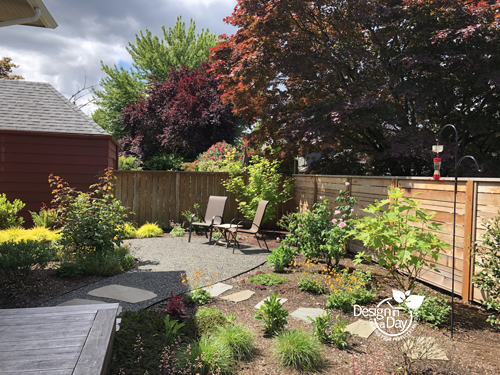 Designers Perspective
We love designing for city proprieties.  One of the challenges of the site is the short distance between the corner of the garage and the corner of the house. This is a classic spatial problem we often encounter with houses in old Portland neighborhoods like Laurelhurst.  It's tricky for homeowners to figure out how to get a comfortable access path into the back yard without crowding out a useful back porch space.  We needed a ground level gate,  comfortable access to the garage and a big enough upper deck to accommodate a 4-person table.  The solution was a gate that opened out toward the driveway and also relocated the stairs to the house further away from this congested area.
Privacy
To create privacy for the upper deck from the neighbor's yard, we designed a planter (flush with the deck).  Clumping bamboo will brighten the deck and provide the privacy needed.
The large lower deck was ripped out and we opted for a smaller flagstone patio. The patio is at the same level as the garden and gives more space for plants, which this homeowner is keen on. The two materials also creates visual appeal by providing different colors and textures for different garden "rooms".
Stairs Matter
Because the sliding glass door is so much higher than the backyard, 6 steps are needed to get down to ground level.  The key to increasing useful space that is more inviting is to stretch out our 6 steps and turn them.
While having stairs go straight isn't wrong, we made a landing to easily access the stone patio on one side and the path for strolling through the lush and colorful hummingbird garden on the other.  Our client liked this simple and unique solution. If you turn right, you get to a lovely stone patio. If you turn left, you get to stroll through the beautiful hummingbird garden.
Around the corner into the side yard, we opted for a budget friendly  low fence. We selected  Fi Bar cedar chips from Mt Scott Fuel for our path and for around the plants.  A generous helping of cedar chips makes for good weed suppression.  The plantings here will be seen from the dining room.  We used a few larger native shrubs to bring butterflies and other beneficial creatures.
Plants
The client's must-have plants included an assortment of salvias,  natives and other pollinator plants.
Her favorite salvias include S. guaranitica, S. microphylla, and S. patens.
Big native shrubs included Red-Flowering Current (Ribes sanguineum) and Dwarf Vine Maple (Acer circinatum 'Pacific Fire').
Besides the salvias, we added the Yuletide Camellia (Camellia sasanqua 'Yuletide'), which is like hummingbird candy in winter. It is positioned perfectly so that the clients can see it through their sliding glass door in the winter where it will flower for months.
Installation
We referred the installation of the garden to D&J Landscape Contractors .
Materials
The client introduced us to a product called Kebony – a wood that is grown sustainably and treated with a natural preservative. It is made from pine instead of the more commonly used cedar.
Kebony has been used in Europe for many years and is now available in the US. It starts as a warm brown that will take on silver tones as it ages.  The installation of the product might cost about 25% more but according to their website, it requires no maintenance and has a 30 year warranty!
The railing is stainless steel cabling by Precision Rail of Oregon.
The patios were made using irregular bluestone flagstone and compacted crushed rock.
FiBar cedar chips were used for the side yard path.
Mature Laurelhurst Backyard Plantings 3 Years Later
It's so exciting to share these after photos of the mature colorful summer plantings.  This backyard planting plan was designed primarily for summer and fall viewing with an emphasis on pollinator plants.
The beauty of summer pollinator plants is stunning.  The bees were so busy on photo day feeding on Echinacea, Sedum, Salvia and Lavender flowers.  Yes our client is a gardener and has enjoyed taking care of her plants but appreciates our lower maintenance plant palette.
Would you like to create an inviting backyard to watch the hummingbirds and relax?  We would love to work with you.  Call us at 503-223-2426 or use our contact form.